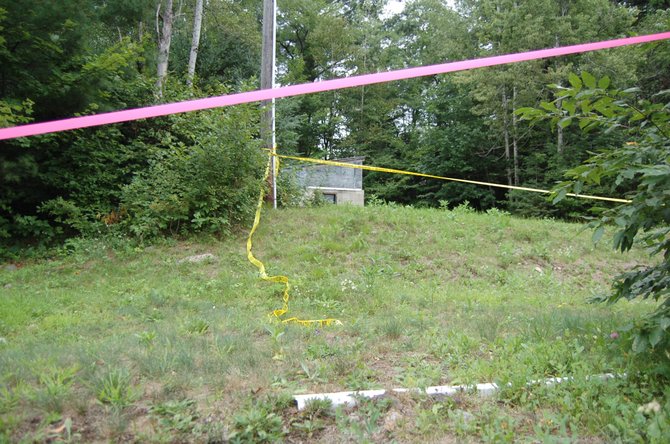 continued — Scene of Discovery
By Friday afternoon, sections of land behind the residents of 71 and 77 McKinley Ave were taped off with squad cars still on scene.
For Travis Hudson, who lived at the home next to where Kilburn was discovered, the experience was very unreal.
Hudson said two Sheriffs came to his home at around 10 a.m. and asked to enter the property on their search for Kilburn. After police searched his yard they moved to the next yard at 77 McKinley Ave. Hudson said once officers entered the lot it was only a short time later the yard was flooded with many more officers.
"I was just really shocked. This has never happened in this neighborhood and around here. Tt's just shocking to think something like that can happen so close to home."
Hudson said one of the most shocking parts to him was that he and his neighbors had spent time in their yards over the past week and never discovered the body or thought it would be possible it could go unnoticed.
"Yesterday I was up picking berrys and I didn't see him, but I wasn't looking," Hudson said.
Hudson said he had noticed a smell two days before Kilburn's discovery.
"I thought it was an animal or trash cans but it really didn't click until today," Hudson said. "Shocking to be that close and yet have no idea."
Community services came together
Moore said he wanted to thank the many people who helped aid the search efforts. He said on any day there were between 50 and 60, both paid and volunteer searches helping.
The week-long investigation was aided by the Lake Placid Police Department; State Police, both the Bureau of Criminal Investigation and uniform officers; Department of Environmental Conservation; Essex County Sherriffs; Saranac Lake Police; members of the Jay, AuSable, Keene, Saranac, and Wilmington Fire Departments; Saranac Rescue Squads; the Champlain Valley Search and Rescue Canine Unit; and members of the Lake Placid Community.
Vote on this Story by clicking on the Icon