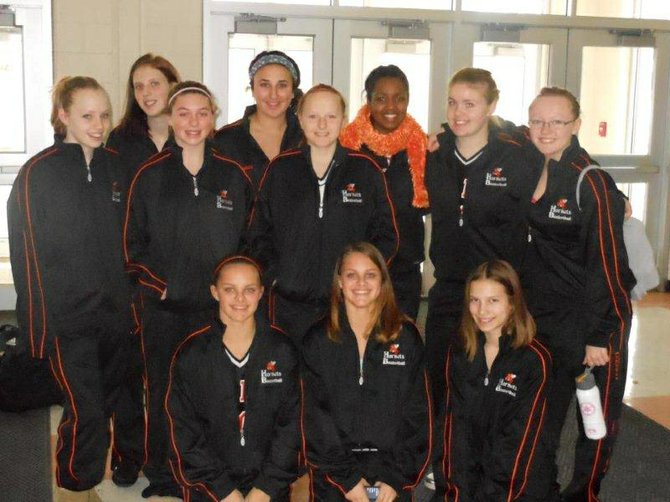 continued — "The night we presented our proposition to the board it was approved, and we had about five board members and a couple others at the meeting give us money on the spot," Bunnell said. "Joe Staves was the first to give us money."
Bunnell, whose daughter coaches gymnastics at Peru Central and granddaughter hopes to participate in Plattsburgh City School's Gymnastic Program when she's old enough, explained that gymnastics in the area is a small community of sorts, and that high school gymnastics teams from Peru and Beekmantown helped raise money to keep the program at PHS going.
The students, along with some parents, began selling "I support gymnastics" pins earlier this summer.
After two months, they had managed to raise about $2,700—a good start, but not nearly enough. With the Aug. 15 season start looming, Bunnell and others were worried they wouldn't pull through.
And then, their luck changed.
After receiving a check for $6,223.57 from the Mari-Rae Sopper Memorial Fund—a fund set up in the memory of gymnast Marie-Rae Sopper, who was one of the 64 people killed when American Airlines Flight 77 was hijacked and flown into the Pentagon on Sept. 11, 2001—the program was saved.
So now, the gymnastics program at PHS will remain intact for another year, but Bunnell is afraid that the overwhelming support for the program could send a negative message to the school board.
"The good news is, we were able to fund the program this year," Bunnell said. "The bad news is the board might think we can fund ourselves from now on."
As with other cuts, such as the elimination of field trips and the Odyssey of the Mind program, Plattsburgh City School Superintendent James Short said the decision to cut gymnastics was not easy.
"We had to look at the number of students impacted and the number of people involved," Short said. "If it's soccer versus gymnastics, we have a huge soccer program, so painfully, we have to cut the smaller program."
Vote on this Story by clicking on the Icon