Johnsburg — The Johnsburg Town Board will hold a public hearing to discuss a proposed local law to allow all-terrain vehicles (ATVs) to cross approved town roads.
The hearing is scheduled for 7 p.m. Tuesday, Aug. 21 at the Tannery Pond Community Center.
Document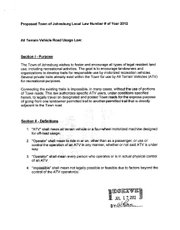 The law, proposed by Councilman Pete Olesheski, would allow the Town Board to open certain roads for ATV use in order to access trails on opposite sides of the road when it's impossible to make the connection otherwise. It would also encourage the creation of an ATV trail system within Johnsburg.
Olesheski said the law would not open all roads to ATV use, and that it was not meant to encourage reckless or illegal behavior in ATV drivers. It would not immediately open any roads, either; actually designating a road for ATV travel would require a separate action on the part of the Town Board. He did, however, mention the seasonal use portion of River Road would be a likely candidate.
"State law is clear, it is within our right as a local government agency to designate and open sections of any roads under our jurisdiction for ATV travel," Olesheski said in a written statement during the Town Board's July 17 meeting. "I feel strongly that we must do this for our residents."
Olesheski said he feels that encouraging ATV use in Johnsburg would not only help local ATV owners, but would also invite out-of-town ATV enthusiasts, therefore giving a boost to the local economy.
According to the proposed law, any resident of the town of Johnsburg could request a section of public road be designated for ATV use. They would have to submit a written request accompanied by detailed description of the factors making trail access impossible without the use of the road, and also a signed document stating the approval of private landowners for a public road to connect their property. The town clerk would keep a list of approved roads. ATV drivers would be expected to adhere to certain safety regulations to ensure safe use.
(Continued on Next Page)
Prev Next
Vote on this Story by clicking on the Icon