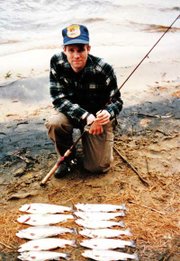 In the past few weeks, I've been involved in a number of discussions regarding the recent state purchase of lands from the Adirondack Nature Conservancy. The purchase includes several large parcels of timberlands, and numerous hunting and fishing clubs that leased these lands.
I know what it is like to lose a lease. I am reminded of the sentiment every time I return to Lows Lake and the Bog River Flow. As a young man, I traveled into the region frequently as a guest of the Grasse Pond Hunting and Fishing Club.
After the state purchased the land, I continued to return, and although the old camp was gone, I still knew the land far better than most visitors. I knew where the springholes were, and where big brook trout could be found during the fall, or directly after ice out.
Similarly, the former leaseholders of lands on the Bog River Flow, the vast Whitney Park or in nearby Robinwood had a unique knowledge of their own special areas. They knew where the deer were, and how to set up a drive and where to set out the watcher.
Even after public access was eventually granted to these former private lands, no one knew the area as well as former lease holders and they returned often to take advantage of that knowledge.
While many no longer had their own private camp, they still had an attachment to the land, and there was no cost for a lease. While there is still bitterness over the state purchases even after decades have passed, I now realize how selfish we were to think we owned the land. In reality, we only rented it for a short time.
These lands will remain far beyond our brief stay on this earth, and fortunately, a large portion of them will now remain much as they were when they first were found, and likely far into the future.
Joe Hackett is a guide and sportsman residing in Ray Brook. Contact him at brookside18@adelphia.net.
(Continued on Next Page)
Prev Next
Vote on this Story by clicking on the Icon