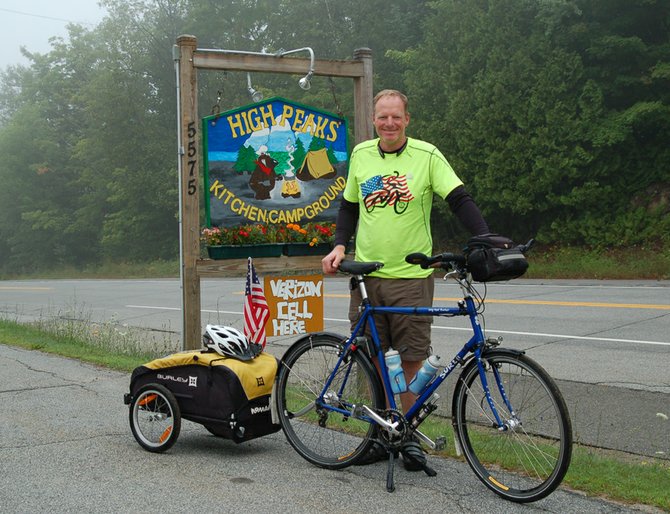 continued — For his accommodations, Mansell camped out, spent nights in motels and stayed with Lions Club members. He always felt at home in communities — such as Newcomb — that post the Lions Club logo on their welcome signs.
"When I come into a community and see that 'L' there, a big smile comes across my face because I know there are other Lions just like me that are doing what they can," Mansell said. "Not everybody can ride a bike 3,500 miles, but everyone's doing their part ... It's been very inspiring for me to meet them and get to know their causes and see their efforts in each of their communities."
And everywhere he went, Mansell never forgot his mission, proudly wearing guide dog tags around his neck. He and his wife spent three days in April at a leader dog school in Rochester, Mich., where he received those tags.
"We actually got to do a blindfold walk where we got to experience firsthand what that's like to trust the dog and let the dog guide you across streets and so on," Mansell said. "They asked me to carry the tag of a leader dog, a yellow lab named Lacey, that actually served 12 days short of nine years. And so I carry this tag with me. The original hole actually wore through and they had to drill another hole, and the edges are all curved, but 6035 is the tag number, and so it's like I have my own leader dog with me."
Mansell explained that when a guide dog dies, the tag is returned. It's a time-honored tradition, and the tag is a badge of courage, one that is well respected among leader dog owners.
While walking with his bike in Niagara Falls, Mansell saw a young woman, Maria, with a leader dog. She was there with her father, and they were both from Croatia.

Vote on this Story by clicking on the Icon