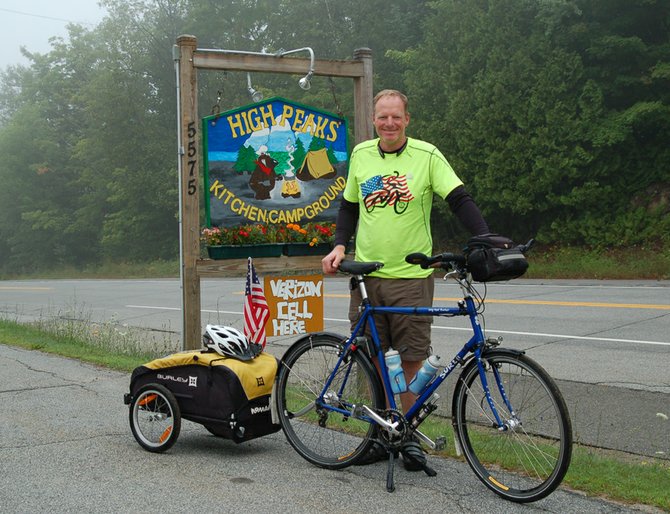 Newcomb — When Mark Mansell gets back to school in the fall, he can easily answer the question of "What did you do this summer?" with four simple words: I rode across America.
Mansell is the superintendent for La Center Central School, a small district of 1,500 students in southwest Washington state in the shadow of Mount St. Helens. On June 16, he left the West Coast on a seven-week bicycle journey from Portland, Oregon to Portland, Maine.
On Thursday, Aug. 2, he traveled through the Adirondack Park and into Vermont, leaving Newcomb and staying the night in Ticonderoga on his way to Vermont.
"I can see why people love this part of the country so much. Simply gorgeous!" Mansell wrote Aug. 3 on his blog at www.crazyguyonabike.com.
The mission for this 52-year-old amateur cyclist was to raise awareness and funds for Leader Dogs for the Blind, which provides guide dogs and other needed services for people who are blind. It was started by the Lions Club in 1939. Since that time, they've given away more than 14,000 dogs to clients.
"And so raising awareness and those funds to provide those dogs is a cause that's near and dear to the Lions and, as a member of Lions, it's therefore near and dear to me," Mansell said.
After spending a night at the High Peaks Campground in Newcomb, Mansell stopped at the Newcomb Central School parking lot off State Route 28N for an early morning interview before heading to Ticonderoga.
The idea
Mansell said he started bicycling as a cross-training sport for his long-distance running regimen. Several years ago, a fellow superintendent said that when he retired, he wanted to ride his bicycle across America.
"And I thought, 'That's nuts. Who would want to do that?'" Mansell said. "I mean, I wouldn't want to ride across in a car for the fun of it, let alone a bicycle, and yet here I am three years later. I'm doing it."
(Continued on Next Page)
Prev Next
Vote on this Story by clicking on the Icon