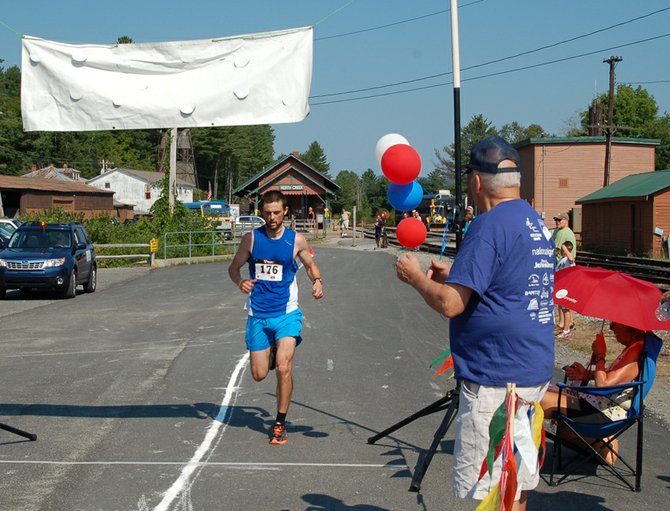 continued — "It's really well run," said Dee Jacobs, who both beat the train and placed first in the 60+ age category. This was her first year participating. Jacobs enjoyed the fact that the race has a defined goal, and was pleased with the dirt track.
Racers were also surprised by the water stations set up along the course. This year's race featured a competition for the best water station, so many of the volunteers running them decorated and dressed up in costume. Several racers commented on how inspiring the displays were.
There was only one criticism; the difficultly of the track. Many racers found the many hills along the way especially challenging.
"The hills didn't end!" said first time racer Fiona Recchia. Recchia missed beating the train by mere seconds. Despite the hills, she says she'd definitely participate again. This seemed to be consensus among all the racers. The track may be difficult, but the experience as a whole was amazing.
RACE RESULTS
Included are the top 10 overall finishers from the Aug. 4 Race the Train event, plus the racers from our region. In all, there were 321 racers listed in the results, including the train, which came in 70th. Results provided by Do Right Timing.
Place Name City Time


1 Paul Allison Jericho, Vt. 46:59

2 Gary Messina Queensbury 50:38

3 Volker Burkowski Gansevoort 51:19
4 Nolan Graham Troy 54:16
5 Anthony Anderson Whitefield, Me. 55:11

6 William Venner Granville 55:14

7 Jay Thorn Valatie 56:35
8 Carly Wynn Queensbury 56:45

9 Adam Bowman Castle Creek 57:06

10 Kyle Curry Blue Mt. Lake 57:46

22 Michael West Warrensburg 1:01:37

28 Eric Bott Warrensburg 1:02:01

40 Rob Demuro Elizabethtown 1:03:04

43 Austin Washburn North Creek 1:03:40

44 Christopher Kunkel Pottersville 1:03:42

53 Stephen Layden Lake George 1:05:20

61 Steven Benway Willsboro 1:06:39

Vote on this Story by clicking on the Icon