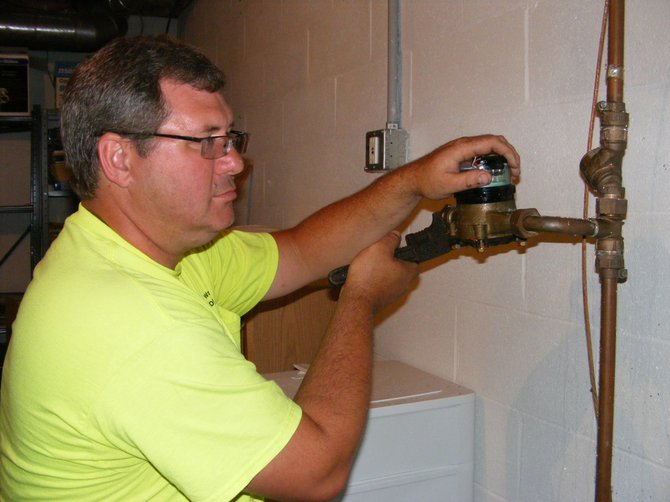 WARRENSBURG — In recent months, Warrensburg water district residents have had notices delivered to their door, received phone calls and seen news articles urging them to call the town hall to get a new waters meter installed in their homes.
Yet despite a looming deadline, most of the homeowners — 672 of the 1,112 residential water customers — have not yet complied.
As of Sept. 1, those homeowners who don't make an appointment to get a water meter installed will pay a flat $500 annual fee for their water instead of the present $195 rate.
The Warrensburg Town Board set the $500 fee Wednesday Aug. 8 to prompt people to have a meter installed, because the town is converting to a system in which water customers are charged based on volume used rather than paying flat fees set by household population and other factors.
If the water meter in one's household is more than a year old, it most likely needs to be replaced, town officials said, observing that the lack of compliance with the water meter installation effort is probably due to confusion among district residents.
The meter conversion effort follows an initiative started in the early 1990s to charge homeowners for the gallonage used. Although meters were installed over the last 18 years or so, a previous town administration put the effort on hold, and a flat charge remained in place.
Those water meters now need to be upgraded to allow for modern billing methods, Warrensburg Town Clerk Donna Combs said.
Town Supervisor Kevin Geraghty noted that the pending switchover to billing by volume means fair charges for all, while reducing coss for the water district, which then lowers charges to water customers.
With the partial installation of meters, the town has already reduced the consumption of water by 30,000 gallons per day, which is now saving local taxpayers tens of thousands of dollars in pumping and purification costs as well as sewage treatment expenses. The district pumps about 300,000 gallons of water per day out of its four wells.
(Continued on Next Page)
Prev Next
Vote on this Story by clicking on the Icon