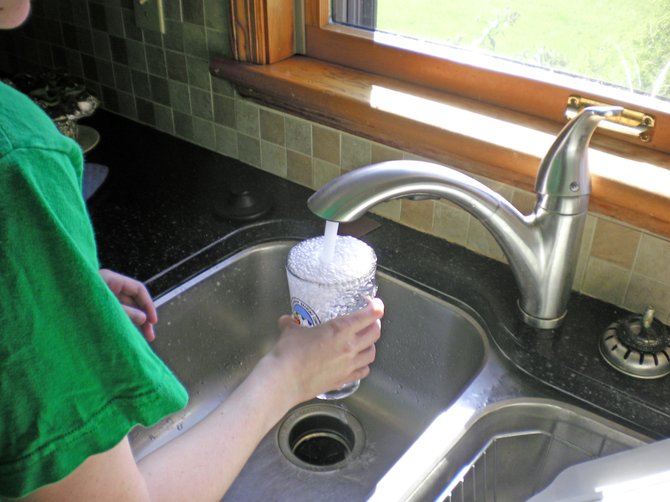 continued — Thompson has contacted the Ticonderoga Police Department and the state Attorney General's office to investigate HomeServe USA's actions in Ticonderoga.
Ticonderoga officials hope to drill test wells this month, another key step in a $13.8 million water project for the community.
Engineers have identified possible groundwater sites and town officials are presently negotiating with property owners for use of the land. Test wells will be drilled to determine whether the locations have the capacity to meet local demand.
"We've identified the sites, now it's a question of how much water is there," trustee Jeff Cook said. "Our engineers are confident they will find plenty of water."
In 2009 the state Department of Health ordered Ti to replace or cover the Gooseneck reservoir, which was created in 1931. The town developed a plan to replace the reservoir with tanks, but an inspection discovered problems with the Gooseneck dam and with transmission lines.
Gooseneck was designed to serve the entire town, but over time demand exceeded Gooseneck's capacity. In 1965 a Lake George water supply was developed for emergency use. Eventually Lake George water became necessary to meet daily demand.
During a recent inspection the state also found problems at the Baldwin Road filtration plant that handles Lake George water.
At the urging of state officials, Ticonderoga then began considering an upgrade of the entire water system, utilizing groundwater sources. Preliminary engineering studies have identified five possible aquifers in Ticonderoga that could be water sources.
Malaney said the project is on schedule to be completed in 2015. Construction is expected to begin in 2013.
"The state is giving us two years," Malaney said. "It's a tight schedule, but we're OK."
The estimated $13.8 million price tag is actually a bargain. The state Department of Health has ordered Ticonderoga to either replace Gooseneck or cover it. Covering the reservoir carries an estimated cost of $31 million. The state has also ordered repairs to the Lake George water system that could cost another $12-24 million.
Ticonderoga has been declared a hardship case by the state, which makes it eligible for a no-interest loan to cover the project. That's good news, but local officials are hoping for grant money with the help of residents who complete the confidential income surveys.
Information on the project is available on the town website at www.townofticonderoga.com
Vote on this Story by clicking on the Icon