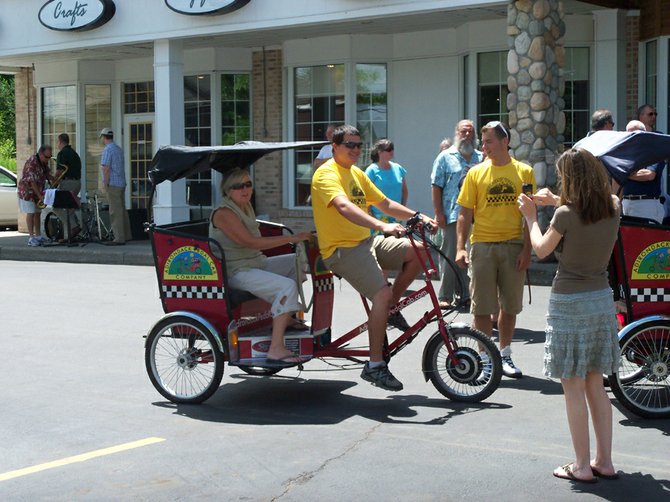 NORTH CREEK — Rickshaws from the Adirondack Pedal Cab Company are now helping greet visitors arriving here on the Saratoga & North Creek Railway.
Most of the company's eco-friendly fleet of 22 pedal cabs — shipped from China — are being used in the village of Lake George to help transport tourists to shopping destinations and attractions. But a few of the three-wheeled bicycle taxis have also been used in North Creek to meet visitors arriving on the train and bring them up and down Main Street.
"When people come in off the train, often they've never been here before," said Michelle San Antonio who sells advertising for the Adirondack Pedal Cab Company. "Usually when people see the cab, they're very excited about it. They think it's a neat idea, so it's not a hard sell to get people into the cab to take a ride."
Johnsburg Central School teacher Steve Tomb started the company with two of his friends and fellow entrepreneurs, Mike Smith and Ken Murray. Their idea is to provide green transportation using electric-assist people-powered pedal cabs operated by a driver.
"This is a common form of transportation in many parts of the world," San Antonio said. "Steve Tomb, when he did his teaching semester in India two years ago, this was the transportation that was so common there, and that's where he got the idea from."
In North Creek, the company is focusing on transportation needs during the high-traffic times on the weekend afternoons (Friday, Saturday and Sunday) when the train makes daily runs, arriving in North Creek at 12:09 and 2:34 p.m. and departing at 3:45 p.m. Operations began on Memorial Day weekend and are expected to continue through the leaf-peeping season in October.
In Lake George, riders can park their car at the Pedal Cab Company shop next to the Spare Time Bowling Lane and ride a pedal cab to the beach or into the business district. Operators may also roam territory as far south as Water Slide World at state Route 9L, and as far north as the intersection of Route 9N and Canada Street. Hours of operation are to be from 9 a.m. to 10 p.m. every day in the summer, and weekends in the shoulder seasons.
(Continued on Next Page)
Prev Next
Vote on this Story by clicking on the Icon