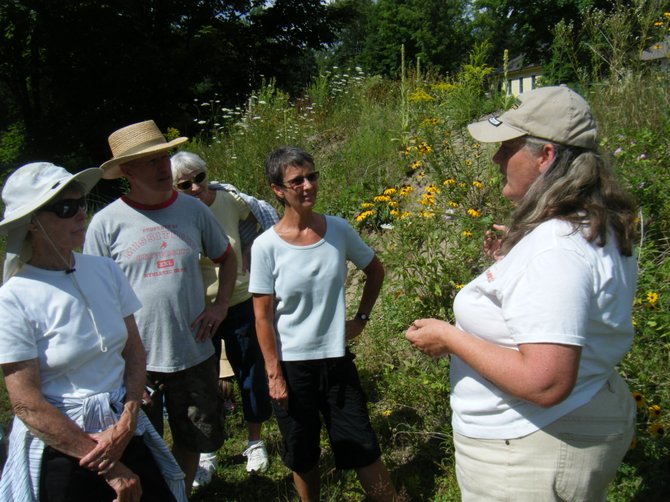 Look around, and find something to eat. Members of the Master Gardener Program of Lake Placid and visitors did just that in a the Edible Wild Foods Walk, Talk & Taste event on Sunday, July 29 at the Heaven Hill Farm.
The 14 members of the community, some skilled master gardeners and others fairly inexperienced, began the walk in early afternoon by looking at the brush growing wild next to the buildings on the Cornell Cooperative grounds.
Through the course of the two-hour class, 4-H program director and edible-wild-plants expert Pat Banker showed the guests how to identify tasty plants that are often refered to as weeds and overlooked. Banker also identified poisonous plants to steer clear of.
Marie Bowman, of Owls Head, said after taking the class she will be looking more closely at what she usually walks by.
"I'm going to look at the things around me differently," Bowman said.
Banker started by bringing visitors to the flowers beds on the ground and pulling the petals from the day lilies and describing the sweet taste the petals can add to salads or other dishes.

During the program, Banker pointed out flowers and vegetation such as the Queen Anne's lace and said it can be identified as the bushel of small white flowers with a single "crown" or a purple flowers in the center. As a flower seen frequently in North America, Banker said the flower and root can be eaten and prepared and used in many ways. With a carrot or parsley taste, Banker said the dandelion can be cooked, or dried out and used as a completely healthy salt substitute.
"You can dry the flowers out and save the brown leaves and sprinkle on your food just as you would salt," Banker said. "Completely healthier than actual salt."
(Continued on Next Page)
Prev Next
Vote on this Story by clicking on the Icon