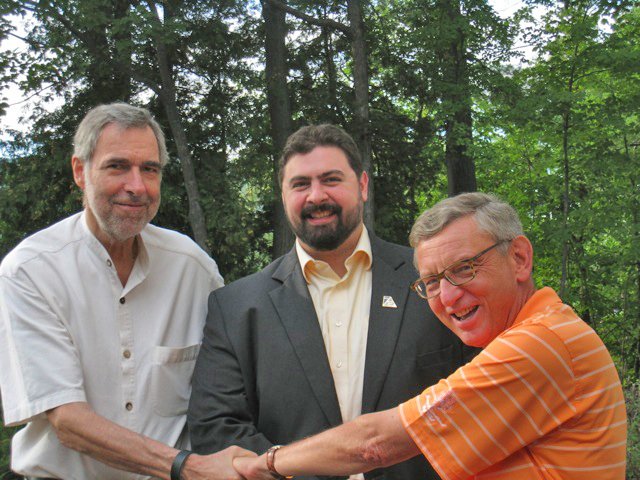 Ticonderoga — The Ticonderoga Revitalization Alliance no longer has a chief operating officer.
J. Justin Woods, who took the job last September, has left because of a funding shortfall. Woods will officially be done Aug. 31, but is using vacation time until that date.
"The Ticonderoga Revitalization Alliance is in the process of reorganizing to better serve the community while working within a more sustainable financial structure," said James Major, chairman of the alliance board. "Unfortunately, the challenge of fundraising and capitalizing a new non-profit during a global economic crisis has proved to be more difficult than we imagined. We are sad to announce that the result of our funding shortfall is the inability to sustain the salary of our CEO, J. Justin Woods, who has been working diligently to establish economic development and cultural arts programs."
The Ticonderoga Revitalization Alliance is a not-for-profit, local development corporation whose mission is to restore economic prosperity in the Ticonderoga region. It's goal is to serve as a clearinghouse for ideas and resources and be a catalyst for public-private partnerships and investment opportunities.
"I greatly appreciated the opportunity to work with the business community, and all of Ti's organizations such as PRIDE, the fort, festival guild, Ti Arts, TMSP (Ticonderoga Montcalm Street partnership), the chamber and especially the town board and alliance board of directors," Woods said. "With limited government support and increasing competition for grants, the funding challenges non-profits are faced with is sizable. Fortunately, the grassroots energy and passion for revitalizing Ti is strong, and this energy will generate the momentum needed to continue as a more sustainable operating plan is developed."
Woods said he is disappointed to be leaving Ticonderoga, but he's confident the alliance will ultimately succeed.
"The alliance and town have a bright future" Woods said. "There are some very smart people in the community. They'll figure out a way to succeed."
(Continued on Next Page)
Prev Next
Vote on this Story by clicking on the Icon