continued — "The band was fantastic and the fireworks were awesome," he said. Margaret Holmes said dozens of cars parked around the Mill Pond to see the aerial show.
The event's vendors reported slightly less browsers, but substantially more sales, Holmes said.
"Our crafters said that people seemed to be buying more this year," she said.
Among those attending was Matt Doheny (R-Watertown), candidate for the 21st District, U.S. Congress. He is challenging U.S. Rep. Bill Owens (D-Plattsburgh) for the position. Doheny circulated in the crowd for a while, greeting others attending as he sought support, Simpson said.
Horicon Day's classic car and boat shows were very popular, Simpson said, noting that standout vehicles included a flawless restored Mustang and a 1950s Chrysler New Yorker.
"There were some marvelous vehicles on display," he said.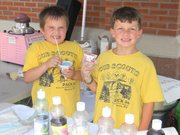 Holmes said that Warren County's "Safe Child" fingerprinting event was considered a big success with the county Sheriff's representatives, as 40 children participated.
The video show of local resident and noted Adirondack photographer Carl Heilman was popular, and Heilman presented an impromptu encore presentation, Holmes said. The local Boy Scouts "Monkey Bridge," with its rope walking course, was a fun activity for children, she added.
The pie-eating contest not only included youth competing, but a contest was also held for adults, to test their stomach capacities. Holmes said with some adults hesitant to participate, children gladly filled the roster in the adult division.
Horicon Day's community softball game pitted men and women — a good number of them middle-aged — against North Warren High School students. After the high schoolers started slamming home runs, the umpires gave the oldsters a break, calling strikes for their team's pitches that appeared out of the strike zone, Holmes said.
"Everyone had a lot of fun," she said.
Holmes said that the popularity of Horicon Day was due in part to extensive publicity and advertising. She also praised local minister Kevin Radford for setting up and managing the new www.horiconday.com website.
Simpson said plans were already being discussed for next year. He said that a shuttle might be set up to transport attendees from remote parking lots all day long, and not merely for the fireworks show.
Holmes said the work of the many volunteers' work in planning the 2012 event paid off, particularly because Horicon Day was a treasured local tradition.
"It's so nice to see area families coming together for a community event like this," she concluded.
Vote on this Story by clicking on the Icon