BRANT LAKE — Scorching weather didn't deter people from flocking to the local community festival that's fast become a beloved tradition.
A crowd of hundreds attended Horicon Day on Saturday Aug. 4, with far more children participating than in the prior two years of the festival, event organizers reported.
This may have been because of an expanded lineup of games and activities, Margaret Holmes and Matt Simpson said.
"Our new rock wall was going 'full bore' all day long with four solid hours of action," Simpson said. "There were more kids in the crowd, all day long, than last year."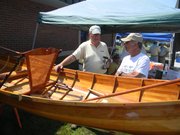 Also, the new attraction of a dunking booth was popular, observers said. Citizens got to take a shot at Horicon Town Board members Bob Olson and Matt Simpson, as well as Zoning Administrator Gary McMeekin. A large number of North Warren students also volunteered to get plunged into the water — as a respite from the heat, Simpson said.
"It was great to get dunked," he said of his own refreshing forays into the water tank. "I enjoyed the day off from normal things."
Temperatures as high as 95 degrees may have shortened families' visits to Horicon Days — held at the town hall on Rte. 8 — but it certainly didn't stop people from attending, Simpson said.
He noted that Paul Holmes had seen the forecast Friday, and had hurried to construct a misting apparatus that would provide a fun cooling-off station for Horicon Days attendees. Children particularly enjoyed the station which sprayed people with a fine mist of water, he said.
A crowd of more than 70 people enjoyed the spaghetti-and-meatball dinner prepared and served by the employees of Tin Teepee Campground, Simpson said.
A large crowd gathered afterwards to hear the Steven L. Smith Band and watch the colorful fireworks display that followed, Simpson said. Brant Lake Taxi provided a shuttle for people who had to park in remote parking areas, Simpson added.
(Continued on Next Page)
Prev Next
Vote on this Story by clicking on the Icon