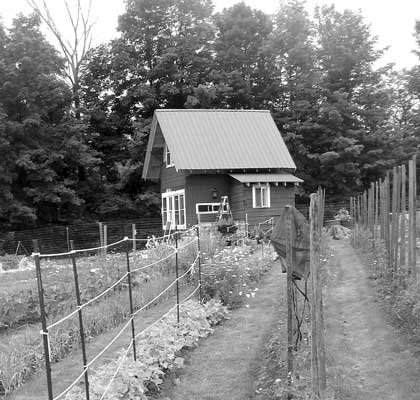 continued — Delighted with their daughter's recovery, the Bird family built a camp in 1910 using leaded glass windows from a demolished Guggenheim estate on Long Island, bringing these and other building materials all the way up by train.
Traditionally, the women stayed all summer while the men traveled back and forth. Life was leisurely. Visiting, and having visitors, was an important part of life. Cooking was done with a hand pump and wood cook stove. There are still a dozen 100-year-old apple trees planted by her great-grandfather.

"These camps and the land around them are very dear to my heart," Leslie said. "This is our first year as a small farm, but having visitors, being outside in the fresh air and walking in the wildflower meadows are traditions which go back more than one hundred years."
This year, Clement's daughters — June and Emeline McCarthy — attended Johnsburg Central School.

"It was admittedly a big change from their former suburban school in Massachusetts, but they adjusted well, and I couldn't be happier with the education they're receiving at JCS," Leslie said. "The teachers and staff are committed and caring."

The North River Hobby Farm is located on an 8-acre parcel with panoramic views of Gore Mountain and a historic cemetery next door. The property is off Route 28 up 13th Lake Road to the top Cemetery Road, historically known as "Christian Hill."

The farm is open Thursday through Sunday noon to 8, and other times by chance. Every Saturday night, Clement serves a "farm to table" dinner buffet priced at $12 and $8 for children or seniors.

Details can be seen on NorthRiverHobbyFarm.com. For more information, call 251-5331.
Vote on this Story by clicking on the Icon