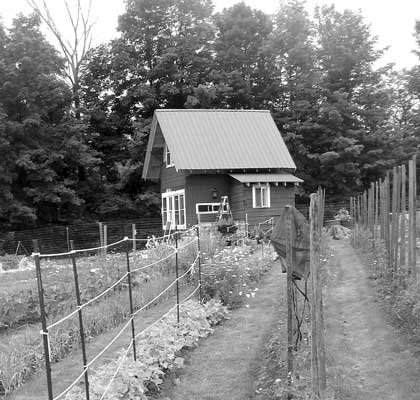 North River — After more than one 100 years as a family summer camp, this historic property has become a picturesque "hobby farm" and at last has family members living there full time.
Last summer, Leslie Clement and her two daughters moved from western Massachusetts to become year-round residents in North River and to fulfill the dream of creating a scenic farm selling produce as well as serving light picnic foods and Saturday night country dinners.
Clement cleared some of the 8 acres for a large scenic vegetable and flower garden, creating raised beds with soft sod paths between. She was surprised at the results of a soil analysis which showed a high degree of organic material and an almost perfect pH balance.

This spring, she built a small greenhouse where she started tomatoes, basil, squash and other warm weather crops in early spring, thereby giving them a head start before they went into the ground in late May. Cold weather crops including broccoli, lettuce, onions and potatoes where planted in early April.
In her 20s, Leslie worked as a carpenter apprentice, completing four years of training. She then went on to restore a number of historic homes in Springfield, Mass. as well as building 50 new Craftsman-style homes which were featured in the national Builder Magazine. Locally, she worked as a designer on her sister Cari Clement's North River historic schoolhouse and restored the Cedarwood Bed and Breakfast on Schoolhouse Road before selling the property to the current owners, Sharalee and Louis Falzerano.

In the last few years, Leslie returned to her original profession as a working carpenter. This winter, she converted a barn on her Cemetery Road property into a farm stand and kitchen, using many recycled and "already owned" materials. She received a permit from the Johnsburg Planning Board to become a farm stand selling herbs, flowers and fresh produce as well as a "food processing" permit from the New York Agriculture and Market which allows her to sell take-out food, ice cream and home canned goods.

(Continued on Next Page)
Prev Next
Vote on this Story by clicking on the Icon