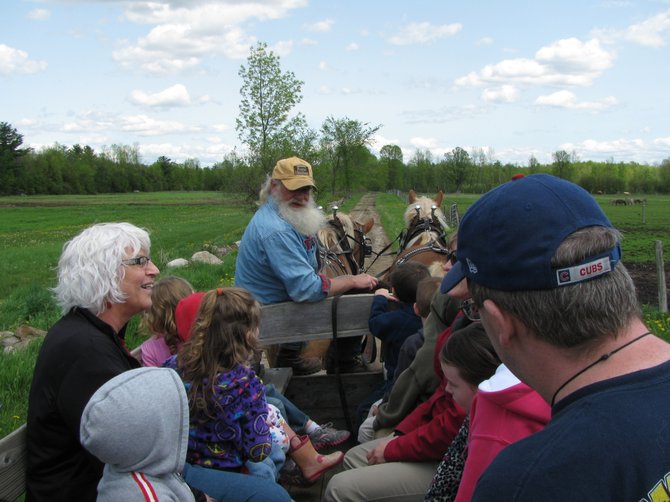 Ward said some things, like a garden, can be used to illustrate concepts on school grounds, but it isn't the same as bringing her students into the world.
"We use the garden as much as we can, but it isn't the same as seeing the fields," Ward said. "At a farm, they can also talk to the farmer. That is hard to replicate."
Sarah Castle-Hackett, who runs Green Earth Daycare in Plattsburgh, has been on several of Ward's field trips with her son, Aidan, who finished kindergarten last spring.
"It's interesting how much of an impression the field trips leave," Castle-Hackett said. "Whenever Aidan says he's going on a field trip, one of my day care kids, Xavier, says he remembers it. He's still excited about it five years later."
Castle-Hackett said she thinks Aidan benefitted greatly from the field trips and by going along, Castle-Hackett said she was able to make some connections, too.
"It really helps create a community out of the pre-k kids," Castle-Hackett said. "I got to see how the teachers interact with the students, which gives a better perspective on what they're doing. It's very personal."
She added that it also gave her a chance to meet other parents and students.
"Now, when Aidan tells me who his best friends are, I already know them," Castle-Hackett said.
Aidan had finished pre-k before the budget cuts went through, but it still bothers Castle-Hackett to know that future students won't have access to this type of learning.
"They're still doing the walking field trips, but that isn't enough," Castle-Hackett said. "I can't believe they cut this program."
This year's budget cuts came with some heavy sacrifices, and the decisions weren't easy.
"After that first budget was rejected, we had to go back to the drawing board," Plattsburgh City School Superintendent James Short said. "We didn't want to cut anything."
Vote on this Story by clicking on the Icon