Moriah Center — A century-old Moriah Center building was destroyed by fire April 28.
Moriah firefighters received a call at about 4 a.m. that a home on Ensign Pond Road was ablaze.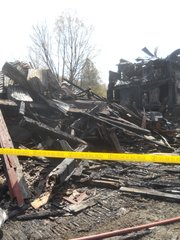 More than 60 firefighters responded and battled the fire for more than six hours. Moriah, Port Henry and Mineville-Witherbee fire departments were at the fire, along with Westport Air One. Elizabethtown and Crown Point fire departments were on standby. Moriah Ambulance Squad was also at the scene.
Moriah firefighters had to return to the smoldering building at about 12:30 p.m. when flames rekindled. They remained on the scene until after 3 p.m.
Moriah Volunteer Fire Department Chief Ralph Jaquish Sr. said the fire is believed to have started in a wood-burning furnace in the basement.
"This building was built in the 1800s," Jaquish said. "Once the fire got to that old, dry wood there was no stopping it."
Lou Paris of the Moriah Ambulance Squad said flames were shooting 80 feet into the air. He could see the blaze from his home several miles away.
"I came down from Mineville," Paris said. "The entire sky was lit up like it was day."
The two-story building that was once a store was owned by David Brackenbury. Brackenbury was home at the time of the fire, Jaquish said, and escaped unharmed.
The home was a total loss.
Jaquish said Brackenbury did not have insurance on the home.
Vote on this Story by clicking on the Icon