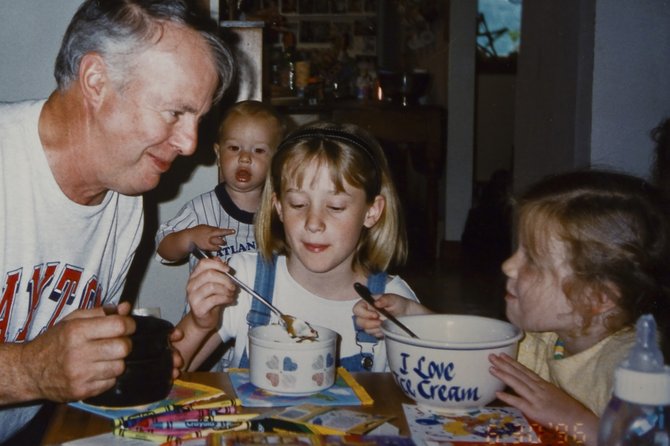 Putnam — Never under estimate the power of ice cream.
Jim Dayton loved dessert. Now, in his memory, his family has formed "Team Ice Cream."
Lynne Dayton, his daughter, and his niece Kristi Watts Warters will participate in his honor at the 2012 Walk for Pancreatic Cancer Research on Sunday, May 6, in New York City. They are asking people to support their walk by donating the cost of Jim's favorite dessert. Checks made out to the Lustgarten Foundation can be mailed to Lynne Dayton at 250 East 40th Street, #3C, New York, NY 10016 or people can donate online at CUREPC.org or call 1-866-789-1000. Donations are tax deductible and every dollar raised goes directly to pancreatic cancer research.
Dayton, who lived in Putnam and had a Ticonderoga mailing address, died Sept. 19, 2011, of pancreatic cancer. He loved Ti and Putnam, according to his daughter.
"I not only mourn the loss of my father, but also the loss of a man that truly believed in the importance of small town values," Lynne Dayton said. "I may live in the hustle and bustle of Manhattan now, but I hope I never forget to just slow down, let somebody else go first, hold open that door and when times get tough, have a dish of ice cream, because my dad believed it was impossible to be unhappy while eating ice cream."
Jim Dayton was born and raised in a small town in Michigan and after being stationed at the Air Force base in Plattsburgh, he met and married Colleen Grimes. They lived in Ticonderoga and Putnam Station early in their marriage and after Jim retired as an electrician.
"Living in a small town meant long time neighbors became family, adopting titles like 'Aunt' and 'Uncle' and that you would lend a helping hand to others, without being asked, whenever it was needed," Lynne Dayton said. "It also meant working with the barter system. I am convinced that my dad planted home improvement projects in my 'Aunt' Belva Blood's head just so he could get paid in her famous homemade pies and doughnuts!"
(Continued on Next Page)
Prev Next
Vote on this Story by clicking on the Icon