Port Henry — The proposed 2012-13 Moriah Central School budget meets the new state tax cap, but it squeezes existing programs for students.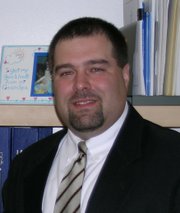 "We've been able to maintain all our current programs, but I wish we could provide more academic enrichment," Superintendent Bill Larrow said. "We have nothing extra in this budget for kids who would like to do more or for kids who may need some additional help."
The proposed 2012-13 budget totals $15,170,738. That's 9.49 percent more than the current budget of $13,856,410.
Larrow is quick to point out almost all of the budget increase is because of a building project that is entirely paid by the state. That increase will not be paid by local taxpayers.
The proposed 2012-13 tax levy is $3,692,813. That's a 1.95 percent increase from the current tax levy of $3,622,121.
Moriah's state-mandated tax cap is 2.36 percent.
Voters will have their say on the proposed budget Tuesday, May 15, 1 to 8 p.m. in the central office lobby.
Staying within the tax cap was a challenge, Larrow said, because of costs the district has no control of.
Employee health insurance costs will jump $68,400 next academic year and teacher retirement costs will increase $61,921. School administrators and confidential employees will get 2 percent pay hikes and non-instructional workers will get 1.5 percent pay raises next year. The teacher's union, which has not had a contract for two years, is still in negotiations with the district.
Employees expenses account for 26 percent — $4 million — of the entire proposed $15.1 spending plan.
To stay within the state tax cap, the district is eliminating one teaching position through attrition and made across the board cuts in every area. The district is also applying a $519,000 fund balance from the current budget to next year.
"We are maintaining all academic programs, extracurricular and athletic activities," Larrow said. "We are basically running on a bare bones budget.
(Continued on Next Page)
Prev Next
Vote on this Story by clicking on the Icon