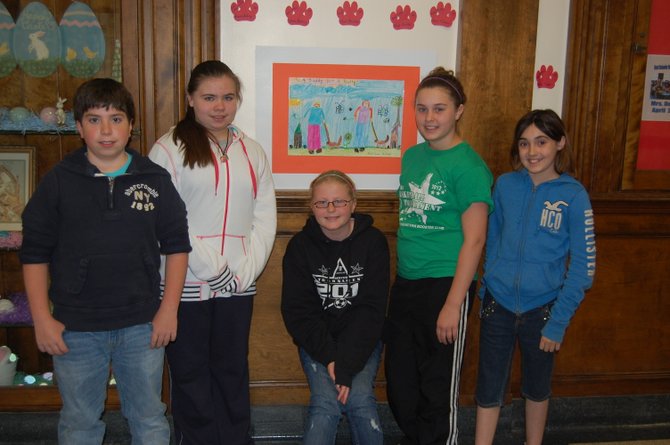 MOOERS — Bullying triggers empathy in Hannah Hemingway, who wonders how horrific someone's life must have been to turn that individual into a monster who now terrorizes others.
"It makes me feel bad," said the Mooers Elementary School fifth grader.
But she feels even worse for the victim, often someone who is different, such as a child with a disability who already struggles to fit in.
"What we do makes a difference with kids," Hemingway said.
Mooers Elementary School utilizes a variety of tools to dismantle bullying and create an environment in which students feel safe and thrive.
"Bullying is somebody threatening or punching and somebody being scared to come to school," said Jacob Steinfeld, another fifth grader. "It scares the other kid and makes them feel bad to know they are being bullied."
Steinfeld and other Mooers Elementary School students recently participated in the yearly anti-bullying poster contest. Kindergarten through fifth-grade students created posters that conveyed "Be a Buddy – Not a Bully."
Each grade received first, second and third-place gift cards for the yearly book fair. The winning posters are currently displayed throughout the school.
But this contest is only one of the many activities students participate in to help create and sustain a positive and caring climate in school.
The school also conducts a safe school ambassador program, a group of committed and trained fourth and fifth grade leaders displaying tolerance and respect and helping keep the school safe by reducing bullying behaviors and setting a positive climate.
"Schools should be held accountable, and we have been and are," said School Counselor Carol LaBarge. "We do a number of things throughout the year to establish a positive climate to promote learning."
Principal Dennis Rasco pointed out that on July 1, Dignity for all Students comes into effect.
The Dignity for All Students Act, signed into law on Sept. 13, 2010, takes effect this year. It seeks to provide public elementary and secondary school students with a safe and supportive environment free from discrimination, intimidation, taunting, harassment and bullying on school property.
(Continued on Next Page)
Prev Next
Vote on this Story by clicking on the Icon