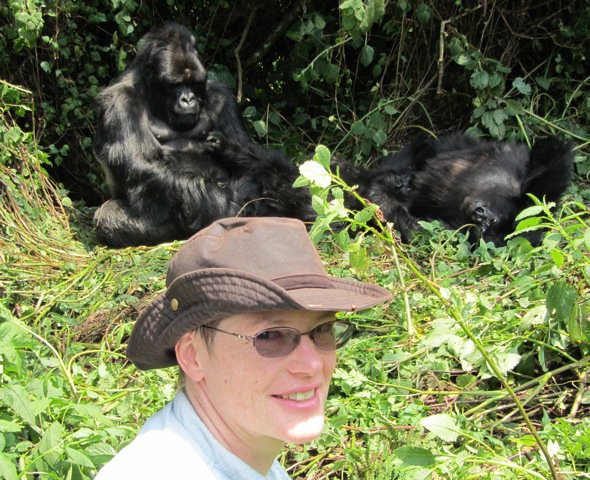 Schroon Lake — A first-hand account of "Mzungus in the Mist" will be presented at Schroon Lake Central School.
The program, sponsored by the school's National Honor Society, will feature teacher Cookie Barker Thursday, May 3, at 7 p.m. in the school auditorium. Admission is a canned food item or a donation to the Schroon Lake Food Pantry.
Barker, a science teacher at the school, went on a gorilla trek in Rwanda in 2011.
The title of her presentation, "Mzungus in the Mist," takes its name from the book and movie "Gorillas in the Mist." Both tell the story of Dian Fossey, a scientist who went to Africa to study the vanishing mountain gorillas, and later fought to protect them. "Mzungus" is the Swahili word for a white person.
Barker went to Rwanda and spent two days hiking in the volcano national park area where Fossey studied gorillas. Barker's presentation will focus on ecotourism, gorilla trekking and Rwandan culture. She will speak as well as offer photos and videos.
Barker has been a science teacher at Schroon Lake Central School for 20 years. In 1999 she won the state Outstanding Biology Teacher Award. In 2005 she took a sabbatical and went to Churchill Manitoba and spent time researching polar bear behavior. In the summer of 2007 went to Peruvian Amazon on a three-week biodiversity expedition.
Fossey was an American zoologist who studied gorilla groups over a period of 18 years in the mountain forests of Rwanda. She was murdered in 1985.
Fossey, along with Jane Goodall and Birutò Galdikas are considered the world's most prominent researchers on primates. Fossey studied gorillas, Goodall chimpanzees and Galdikas orangutans.
When her photograph appeared on the cover of National Geographic Magazine in January 1970, Fossey became an international celebrity, bringing publicity to her cause of saving the mountain gorilla from extinction, as well as convincing the general public that gorillas are not as fierce as they are sometimes depicted in movies and books.
Vote on this Story by clicking on the Icon