Ticonderoga — St. Mary's School students received a sweet treat recently. The world's largest chocolate bar visited the Ticonderoga school.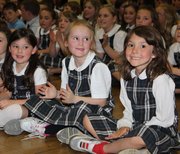 Weighing 12,190 pounds the bar was produced by World's Finest Chocolate. It is 4 feet wide, 3 feet tall and 21 feet long. It contains a whopping 1,200 pounds of almonds, 5,500 pounds of sugar, 2,000 pounds of milk powder, 1,700 pounds of cocoa butter and 1,400 pounds of chocolate liquor.
It has been certified by Guiness World Records as the "World's Largest Chocolate Bar."
But while students were tempted, no one got a bite. In fact, the they were given a lesson in moderation.
The gigantic chocolate bar is part of the "Think Big, Eat Smart" educational program that teaches students about portion control.
"The tour uses the upbeat multimedia display to take the message of eating right and staying fit to students during presentations at schools," explained Sarah Lynn Brannan, program director. "Students are encouraged to practice portion control and exercise, and they are all given free jump ropes.
"The giant chocolate bar is just meant to get their attention and make the message more memorable," she said.
Students took part in a lesson inside and had the opportunity to go outside and see the actual giant candy bar.
Chocolate bars are no strangers to St. Mary's School. The school annually sells candy bars made by World's Finest Chocolate to support its programs. This spring St. mary's students sold 12,500 chocolate bars.
Vote on this Story by clicking on the Icon