continued — Tuesday, May 1 v. Saint Lawrence
Thursday, May 3 at Salmon River
Saturday, May 5 v. Salmon River
Tuesday, May 8 v. Potsdam
Thursday, May 10 v. Canton
Friday, May 11 at Massena
Saturday, May 12 at Colton-Pierrepont
Thursday, May 17 at Ogdensburg
Red Storm golf
The roster:
The Red Storm take to the links in 2012 with a roster that includes Anuj Prajapati, Austin Ecret, Blake Gregory, Carl Bevilacqua, Carly Sawyer, Chance Hobbs, Collin Shipman, Danny Strack, Devin Darrah, Dustin Fischer, Ellen Miner, Emily Fountain, Ethan Sawyer, Gina Fiorile, Guy Grebe, Harley Stankus, Jazzmyn Tuthill, Joe Atkinson, Kyle Dora, Marisa Farmer, Matt Clark, Max Paul, Rachel Dalton, Robert Webb, Ryan Murray, Sarah Parker, Shawn Snyder, Teddy Yanchitis and Tyler Rondeau.
What the coach says: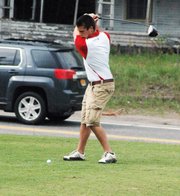 "The 2012 Saranac Lake golf team is expecting another exciting year. We are returning this year with a wonderful group of 29 golfers on the roster; 24 returning players and five new players make our strong team. The returning seniors who played in matches include our captain, Matt Clark ,along with Devin Darrah and Kyle Dora. Other returning match players or qualifiers include Dustin Fischer, Teddy Yanchitis, Blake Gregory, Danny Strack, Austin Ecert, and Ethan Sawyer. Along with those golfers, we are looking for our younger athletes to improve and prepare to step up in matches if needed. Our strengths this year will be our depth of golfers battling for the final spots to play in matches. Once again this year, we have a great group of young people who enjoy golf, want to improve, have fun playing, and being a part of the golf team at Saranac Lake High School." - Coach Chris Stevens.
The schedule:
Tuesday, April 24 v. Moriah
Thursday, April 26 at AuSable
Monday, April 30 at Saranac Central
Wednesday, May 2 at Beekmantown
Vote on this Story by clicking on the Icon