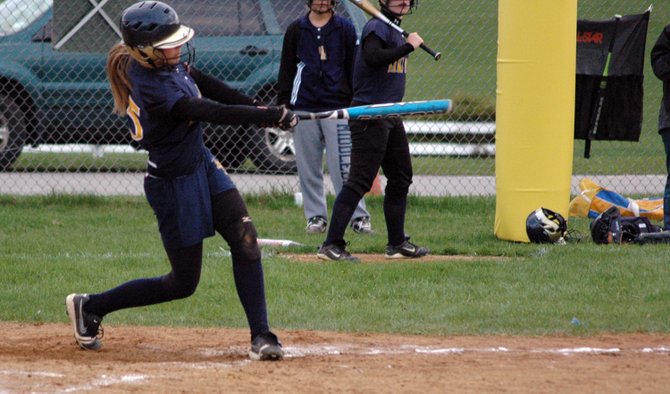 continued — What the coaches say:
"We have a larger team this year due to the merger with Saranac Lake, as well as middle school students who passed the selection/classification tests. Although many players are new there are some who have already shown potential. We do have a few returning players who will keep the level of competition high, even in practice. The seniors will be key in maintaining a high level of expectations for the team as a whole. On a personal level this is my first year coaching tennis." - girls head coach Jennifer Lawrence.
"We will be a contender for a championship team. The rest is up to luck and hard work." - boys head coach George Bailey.
The schedule:
Wednesday, April 25 v. NCCS
Monday, April 30 at Plattsburgh
Wednesday, May 2 v. Beekmantown
Monday, May 7 at AuSable
Wednesday, May 9 v. Saranac Central
Monday, May 14 at Peru
Wednesday, May 16 v. Seton Catholic
Monday, May 21 v. NAC
Blue Bombers Baseball
The schedule
Monday, April 16 at Ticonderoga
Friday, April 20 at AuSable
Monday, April 23 at Plattsburgh
Wednesday, April 25 v. Beekmantown
Monday, April 30 v. NAC
Tuesday, May 1 v. Saranac Lake
Thursday, May 3 at Moriah
Saturday, May 5 at NCCS
Tuesday, May 8 v. Ticonderoga
Thursday, May 10 v. Peru
Monday, May 14 at Saranac Central
Thursday, May 17 v. AuSable
Saturday, May 19 at NAC
Tuesday, May 22 v. Moriah
Lady Blue Bombers Softball
The roster:
The Lake Placid varsity girls softball team will take to the field with seniors Dani Balestrini and Ayla Thompson; juniors Brooke Reid, Serina Hayes, Kelsey Taylor, Haley Brandes and Makenzee Bruce; sophomores Alexa Whitney, Adele Jesmer, Alexis Megliore and Emily Godin; along with freshman Payton Barney.
What the coach says:
"We are returning three players this year, senior captains Ayla Thompson and Dani Balestrini and junior Haley Brandes. Joining the returners are four juniors, three sophmores, and one freshman. This year we look to continue to improve defensively and play aggressively on offense." - Head coach Donna Moody.
Vote on this Story by clicking on the Icon