Keeseville — There is a new sign welcoming home those who return from military service.
On March 24, several gathered to mark the creation of the Keeseville Honor Roll sign, which will list the names of soldiers who have recently returned from active duty tours or completed their time in service to the country.
"Whenever someone comes home from deployment or has been discharged from service, the village will be able to make signs with their names and hang them on the Honor Roll," Danny Kaifetz of Adirondack Flag Poles, who created the sign, said.
The sign was donated to the village thanks to sponsorships by the Keeseville VFW, Elks and Knights of Columbus branches.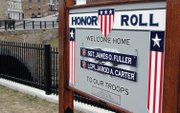 "I got the idea from a sign that they have in the town of Colonie," Kaifetz said. "We were able to get the three organizations to fund the sign at no cost to the village."
"The organizations of our community that pulled together to provide this sign shows the level of community spirit in Keeseville and the honor that we have for our veterans," Gerald Morrow, Chesterfield supervisor, said. "The three municipalities (Keeseville, Chesterfield and Ausable) providing the names of returning members of our Armed Forces shows how proud we are to support our military and our veterans."
Kaifetz said families of those serving can call the village office upon the return of the soldier with the name, rank and branch of service along with any decorations the soldier may have received while on-duty.
There is also a half-scale version of a sign in the Keeseville post office. Both were modeled after a sign that was dedicated in the town of Keeseville in 1942.
"There were roughly 5,000 people who attended that ceremony, which was described as the largest in the region," Kaifetz said. "It was an honor roll that was hurt and fell into the river at one point."
(Continued on Next Page)
Prev Next
Vote on this Story by clicking on the Icon