continued — The Schedule
Tuesday, April 24 at NCCS
Thursday, April 26 v. Saranac Lake
Monday, April 30 at Plattsburgh
Wednesday, May 2 at Saranac Central
Friday, May 4 v. Ticonderoga
Monday, May 7 v. Moriah
Friday, May 11 at Peru
Monday, May 14 v. Beekmantown
Wednesday, May 16 at Lake Placid
Friday, May 18 v. Seton Catholic
Lady Patriot softball
The roster:
The Lady Patriots softball squad will include seniors Alexis Facteau, Ashley Bonilla, Cassie Walker, Christine Darrah, Emily Plumadore and Jessica Baker; juniors Marissa Prentiss, Samantha Vallieres and Sumra Sikandar; sophomores Logan Snow and Miranda Sheffer; and freshman Madison Rondeau.
What the coach says: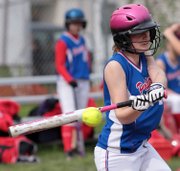 "With only two returning starters and the lack of varsity experience on our team, we expect to see mistakes early in the season but as the season progresses, we will work through those and be competitive. Alexis Facteau and Emily Plumadore are excellent fielders with strong bats. Logan Snow and Miranda Sheffer have been very impressive in their new roles. The outfield will be strong with Jessica Baker, Sumra Sikandar, Marissa Prentiss, Ashley Bonilla and Cassie Walker - they all have good arms and speed. Pitching will be our strength this year, as Christine Darrah is a strong pitcher who has a wide variety of pitches and freshman Madison Rondeau is a very fast pitcher with a variety of pitches. Samantha Vallieres is a solid batter and will be behind the plate. These girls have a lot of potential, they just need time to mold as a team. We have great senior leadership that will help us accomplish that and our goal is to get stronger as the season progresses and compete for a title." - Head coaches Marty Snow and Doug Rondeau.
The schedule:
Tuesday, April 17 at NAC
Thursday, April 19 v. Moriah
Vote on this Story by clicking on the Icon