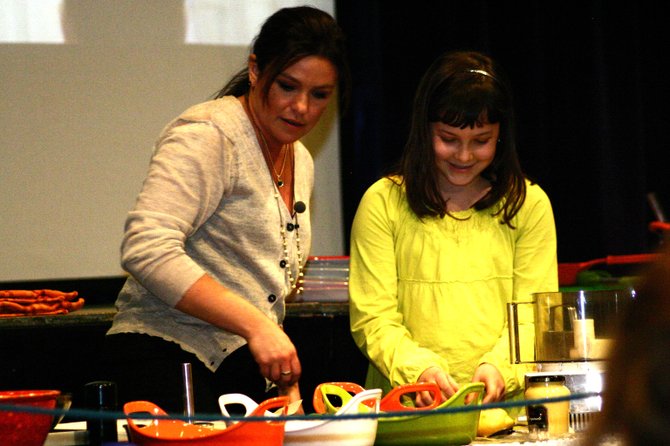 continued — While Ray had raised about $20,000 for the school, Lake George Alumni Association President Tom Roach presented her with a donation to Ray's renowned charity, Yum-O, which has been recently fighting childhood obesity and advocating good nutrition.
Roach also presented Rachael Ray with a $200 gift certificate to Oscar's Smoke House of Warrensburg — and Ray squealed with delight.
"There's nothing I don't like at Oscar's," she said. "I'm going there tomorrow."
Ray said that on her television shows and at home, she cooks with Oscar's bacon exclusively. Other favorites of hers, are Oscar's Triple-X super-sharp Cheddar cheese, their smoked boneless leg of lamb, smoked chicken breast and every variety of jerky that the renowned enterprise produces.
Oscar's wasn't the only local business Rachael Ray praised. She also lauded the Lake George Baking Company, that not only bakes rolls for the annual show, but this year created a huge 10-tiered-cake thanking her for her decade of hosting the local benefit. The cake's giant inscription read, "Ten Years Our Star, Rachael Ray."
Watching Ray react with joy during the cake presentation, the international star's mother Elsa Ray commented on how Rachael as a teen worked long hours on weekends and in summers alongside family members in various restaurants in the Lake George region. Ray talked earlier about how these long work-weeks in the 1980s prepared her well for her television work.
Offering advice to Lake Geroge students, she told them to delve into their career with passion.
"Work harder than the next person, and don't complain about it," she said. "Then you'll always get noticed, no matter what job you're doing — and you'll find an opportunity that you didn't see coming."
As a teenager, Rachael Ray had shown such dedication, family members recalled, whether it was helping in a restaurant kitchen, bussing tables, or polishing silverware after patrons left.
"Anything we taught her, she took it and ran with it," Elsa Ray said. "And she's still running!"
Vote on this Story by clicking on the Icon