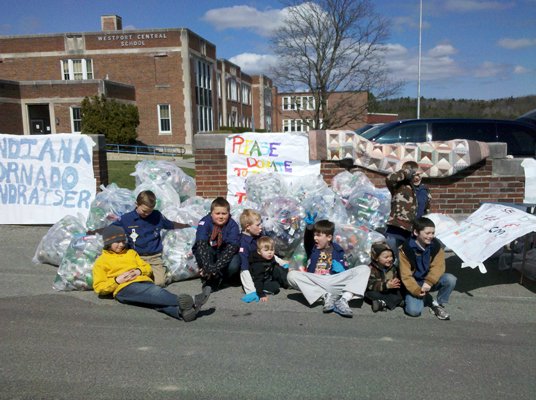 Lawrence got a chance to go into the town of Henryville, where he saw the tornado damage. Our "tour guide" took us to the center of the town and watched as workers were trying to put the high school back together after the tornado split the building in half.
He also saw the path of the tornado, where trees had been completely picked up and thrown back to the ground, houses with no roofs remaining or concrete blocks that used to be where houses were located. We were all amazed at how you could have two houses located next to each other: one completely destroyed and the next with what could be considered "minor" damage to the roof (no roof repair is minor, but at least the roof and the house were still standing).
Overall, it was an eye-opening trip for our entire family.
This was all done because a 9-year-old boy cared about something more than video games or what he needed in his life. He was then able to enlist the help of others who wanted to contribute. He had the support of his parents, his fellow Cub Scouts and his community. Most of all, he worked hard to accomplish the goals that he set out to attain. Lawrence far surpassed his original goal of $500.
Thank you to all who donated to this cause, and thanks to the Cub Scouts who worked hard to accomplish the goal.
And of course, to Lawrence, I am extremely proud of you. Great job.
Keith Lobdell is the editor of the Valley News. He can be reached at keith@denpubs.com.
Vote on this Story by clicking on the Icon