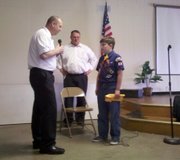 It's amazing to see how much more advanced kids are than we were. Take, for example my son and his friends.
Lawrence was recently watching television and saw some of the devastation that was happening in Indiana from a rash of tornadoes. He turned to his mother and said he wanted to help.
The way he helped was through Cub Scouts. Lawrence went to the members of his Pack, 63, which is made up of kids from Westport and Elizabethtown-Lewis Central Schools, to put together a bottle drive fundraiser. They also collected linens and other items that were needed.
Lawrence spoke with members of the March2Recovery group, a coalition of non-profits and emergency agencies, to find out what they needed and how to help. Even though my wife and I serve as the assistant and Scoutmaster in the pack, we sat back and let him do the planning, which included using our church to make contacts with the group in Indiana.
On the final two Saturdays of March, Lawrence, members of the Cub Scouts and parents of Scouts spent four hours each day going door-to-door and holding posters on the roadside seeking donations. Overall, they collected 10,000-plus bottles (a total of $855 in monetary and bottle donations) and 10 or so boxes of linens and other needed items.
After seeing the hard work that was put into the project, we felt that there was only one appropriate ending to the story, and that was to have Lawrence deliver the donations himself to Jeffersonville, Ind.
On Wednesday, April 4, we piled into the van and headed out, reaching our destination mid-day. Once there, Lawrence was given a tour of the large warehouse being used as a headquarters for March2Recovery, followed by a trip to the organization's meeting, where he presented the monetary donation to them.
Keith Lobdell is the editor of the Valley News. He can be reached at keith@denpubs.com.
(Continued on Next Page)
Prev Next
Vote on this Story by clicking on the Icon