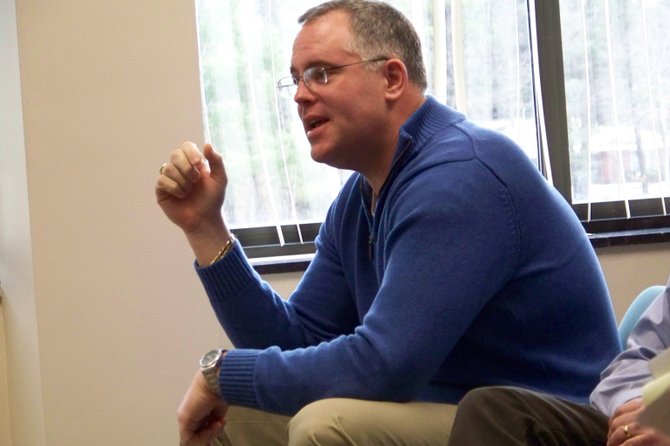 continued — Stec has been in public office for 16 years, compared to 15 months for Wood, who had run based on her deep rural Adirondack heritage and experience with Adirondack issues.
Stec said April 10 he not only gained a broad knowledge of Adirondack issues during his many years in office, but he's dedicated to learning more in the coming months so he can be armed with knowledge and respond to Adirondackers' concerns.
"There's a lot concern around the district about the prevailing business climate, governmental mandates and regulatory climate," Stec said. "These topics are similar, town-to-town, but each municipality has its own particular challenges."
Stec, who's the chairman of the Warren County Board of Supervisors, praised Wood's role in county government and her accomplishments during her 15 months in office.
Stec and other supervisors had heard about her hard work, particularly in the aftermath of the Memorial Day flooding calamity in her town, and he rewarded her with the chairmanship of the influential county Public Safety Committee. April 10, Stec talked about Wood's abilities.
"She's certainly a strong supervisor in Warren County, and I have a lot of respect for her — and I respect her decision to drop out of the race," he said. "Evelyn's got a bright future ahead of her."
"She's done a lot of good for her town, and I know she'll continue to," he continued, noting Wood's efforts to obtain flood recovery funding and her campaign to have broadband extended through her mountainous, remote town.
Meanwhile, Stec said he was eager to meet with as many district constituents as possible.
"We're a month into the campaign, and just getting rolling," he said. "I'm overwhelmed by the strong, positive reception across the district — there's a lot of momentum and excitement to the campaign."
Vote on this Story by clicking on the Icon