Plattsburgh — Tina Dashnaw Rock arrived at Northern Puppies at the same time as employee Sandra Barber made her way inside and the former snapped a photo of the puppy pen.
Before long, the picture of puppies in a pen with several piles of feces and urine was making the rounds of Facebook, inciting anger in many who viewed it. Suddenly, a growing number of people demanded the Plattsburgh pet store shut its doors.
But Tammy Staley, owner of Northern Puppies, her employees and several customers, paint a different picture, defending the pet store and its practices and condemning what they say is a clear misrepresentation of the business.
"I would like people to come in and see for themselves and form their own opinions," said Mrs. Staley.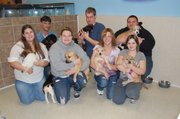 Barber had just opened the doors of Northern Puppies at 11 Plattsburgh Plaza and was followed inside by Rock, who snapped the photo of the puppy pen as Barber helped a customer with a snake he has been keeping at the store.
"I wouldn't just let my six-foot boa go to anybody," said Louis Phillips. "I would recommend this place to anyone. All the pets we got here were healthy, and there is nothing wrong with any of the animals here."
But Rock and others disagree.
The photo, on Rock's Facebook page, and which has been shared on Facebook by many, includes a caption that claims to describe the photo, saying there was urine and feces in the drinking water and blood in the feces, all of which the puppies ran through.
"This is their sleeping and playing area for all of these pups. No toys and no blankets. Please help me shut this place down."
Missy Pion said a family member purchased a puppy from Northern Puppies and the animal was sick before it left the store. She said the puppies smell like feces and their play area is filthy.
(Continued on Next Page)
Prev Next
Vote on this Story by clicking on the Icon