Photo Gallery
Northeastern Clinton at AuSable Valley girls soccer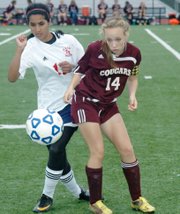 Pictures from the Sept. 29 game between the Northeastern Clinton Cougars and the AuSable Valley Patriots.
However, the Patriots and the Northeastern Clinton Lady Cougars did not play much more, as weather led to the calling of the game around the 50th minute, giving the Patriots the 3-0 win.
Jessica Baker scored the opening goal for the Patriots in the 15th minute, when a cross from Megan Colby, who was credited with the assist, hit off a Cougar defender and onto the foot of Baker, who was able to get the ball into the net.
Cammey Keyser scored the second goal of the game unassisted in the 26th minute, while Colby netted the final goal of the half with three seconds remaining in the 40th on a crossing assist from Bryce Allen.
Taylor Saltus made three saves for the Patriots, while Celine Bouvier made seven saves for the Cougars.
Cross country
Indians sweep Hornets, Eagles
The Peru varsity boys and girls cross country teams scored wins over both the Plattsburgh High Hornets and Beekmantown Indians Sept. 29.
The Indians scored wins of 21-36 over Beekmantown and 24-31 over PHS in the boys meet, while the Hornets scored a 24-33 win over the Eagles.
Dan Lennon (14:22) crossed the line first for the Indians, while the Hornet's Jeriqho Gadway finished second (15:07) and Jared McLean of Peru finished third (15:15).
Charles Simpson's finished fifth for the Eagles (15:48).
In the girls meet, the Indians beat Plattsburgh, 19-40, and Beekmantown, 17-46. The Hornets beat the Eagles, 22-35
Ashley Leta of the Indians was the top finisher (17:37) followed by PHS's Emma Deshaies (17:55), Cheyanne Dobozy of Peru (18:07), Indian Meghan Mazola (18:22) and Beekmantown's Maile Sapp (18:24).
Vote on this Story by clicking on the Icon