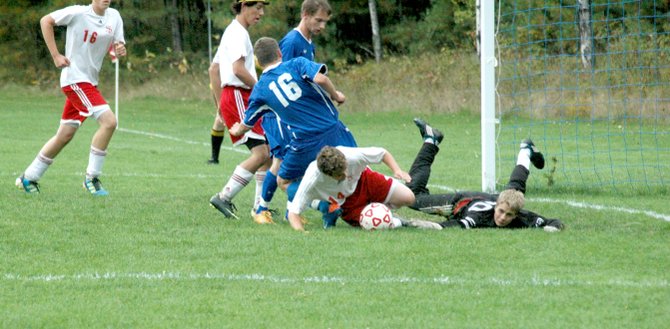 continued — Cody Sayward had six saves in the net for the Warriors, while Morrison had 10 saves for the Bombers.
"There are still a couple areas that we need to strengthen as we get into the second half of the season," Fremante said. "We need to work on our defense a little more. There are still areas for improvement."
Hornets, Cougars scoreless
The Plattsburgh High Hornets and Northeastern Clinton Cougars were unable to decide anything in their Sept. 28 meeting, as the two teams were unable to score in a 0-0 draw.
The result kept the two teams tied in Division I with matching 5-0-1 league records.
Plattsburgh held a 9-7 shot advantage in the 100-minute game, with Chris Roenbeck turning aside five shots for the Hornets and Josh Rabideau making seven saves for the Cougars.
Chiefs shutout Patriots
The Saranac Chiefs scored a goal in each half as they defeated the AuSable Valley Patriots 2-0 Sept. 28.
Kolby Keysor opened the scoring with 18 seconds remaining in the 40th minute on an assist from Michael Conway on a corner kick to give the Chiefs a 1-0 lead. Keysor then scored in the 48th minute on a Kyle Erickson cross.
Nick Rhino made 10 saves for the Patriots, which was matched by 10 saves from Chiefs goalie Bill Badger.
Indians down Red Storm
Ian Spear netted a hat trick and the Peru Indians netted two goals in each half for a 4-1 win against the Saranac Lake Red Storm Sept. 28.
Photo Gallery
Peru at Saranac Lake boys soccer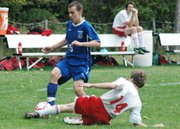 Pictures from the Sept. 28 game between the Peru Indians and Saranac Lake Red Storm.
Spear scored his first on a run through the middle of the Red Storm defense in the 32nd minute. Spear had another chance in the 40th minute to beat the defense, and was tripped, leading to a direct kick that he put into the net for a 2-0 halftime lead.
Vote on this Story by clicking on the Icon