Lake Placid — In a week that started with a 9-0 loss against the out-for-vengeance after their first league loss Chazy Eagles, the Lake Placid Blue Bombers found themselves on the short end of what appeared to be another trouncing Sept. 28.
Clay Sherman scored in the 50th minute to give the Willsboro Warriors a 5-1 lead against the Blue Bombers, which appeared to all but seal the game as an easy win for the top team in Division II.
Photo Gallery
Willsboro at Lake Placid boys soccer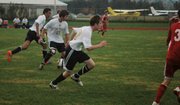 Pictures from the Sept. 28 game between the Willsboro Warriors and the Lake Placid Blue Bombers.
The Bombers, however, fought back scoring three goals in an 11-minute span before falling, 5-4.
"We were playing good and getting opportunities," Bombers head coach Jon Fremante said. "I told the kids at halftime that we just had to go out and play our game of soccer."
Sherman scored all five goals for the Warriors, hitting the back of the net in the fourth (Jeff Bigelow), 12th (Bigelow), 15th (Brandon Bertrand), 31st and 50th (Bigelow) minutes.
Haile Thompson scored the lone goal for the Blue Bombers in the first half in the 39th minute to cut the lead at that time to 4-1 off an assist by Andrew Meister.
In the second half, Thompson scored on a crossing play from Justin Stosiek in the 51st minute to cut the lead to 5-2. Hunter Wilson then scored on a breakaway attempt and assist from Meister, while Eddie Kane took a direct kick from the foot of Kyle Shipman and found the back of the net in the 62nd minute to bring the Bombers within one at 5-4.
The Bombers were able to get some shots at distance onto the Willsboro goal in the final 20 minutes, but were unable to score the equalizer.
"They have a great defense, and we knew that we had to move the ball well and get off clean passes in order to beat the defense and get scoring chances," Fremante said. "On the fourth goal, Shipman put the ball right where I told him to. It was a great play."
(Continued on Next Page)
Prev Next
Vote on this Story by clicking on the Icon