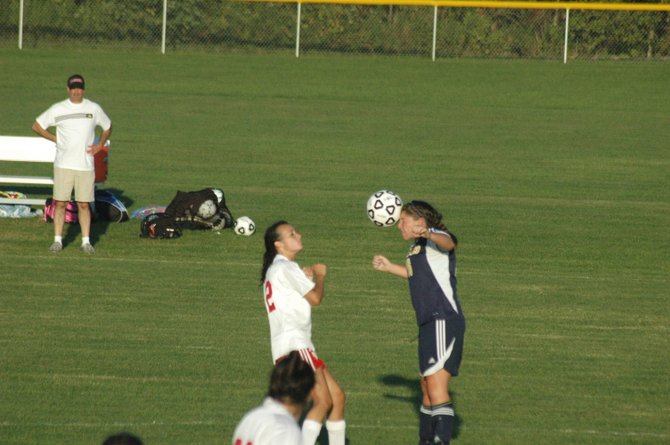 continued — McGinn scored 30 seconds in to the game on an assist from Emily Morris for a 1-0 lead, then scored with just 29 seconds remaining in the opening half to tie the game at 2-2. Her third score came in the 47th minute, giving the Lions a 3-2 lead.
Payton Falb scored the first goal for the Knights in the third minute on a Paige Spittler assist. Falb then scored to give the Knights a 2-1 lead on an assist from Stephanie Egan in the 11th minute. Kelly Ryan scored the goal that forced overtime in the 51st minute, assisted by Madison Murnane.
Kearsten Ashline made 11 saves for the Lions, while Shannon Olsen stopped 16 shots.
Cross Country
Cougars earn sweeps at meet
The Northeastern Clinton boys and girls cross country teams scored sweeps in a meet against Saranac Lake and Lake Placid Sept. 27.
The Cougars scored a 23-32 win over Saranac Lake and a 15-50 win over Lake Placid, while Saranac Lake scored a 15-50 win against Lake Placid.
Neil Miller (19:15) and Sean Kuzmin (19:20) crossed the finish line in the top two positions for the Cougars, while Chris Willette (19:35) and Evan Klein (19:36) were next across the line for Saranac Lake.
The Lady Cougars scored a 23-32 win against Saranac Lake and a 26-29 win over Lake Placid, while the Lady Blue Bombers scored a 27-29 win against the Lady Red Storm.
Nina Armstrong crossed the line first for Lake Placid with a time of 20:58, followed by Justine Rabideau of NCCS (21:56) and Elana Beibek of Saranac Lake (22:05).
Knights defeat all at meet
The Seton Catholic Knights boys and girls cross country teams scored wins over Ticonderoga, Saranac and AuSable Valley at its Sept. 27 meet.
The Knights boys team scored wins of 15-50 against the Patriots, 27-28 against the Chiefs and 23-32 against the Sentinels. The Chiefs scored a 15-50 win against the Patriots and a 21-34 win against Ticonderoga.
Vote on this Story by clicking on the Icon