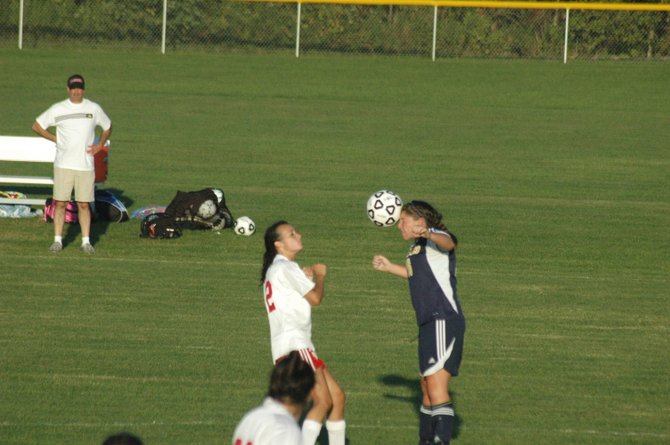 continued — Amelie Jenks opened the scoring for the Chiefs in the 34th minute of play off an assists from Ellen Thew, who was held without a goal for the first time in the regular season. Meghan Strong scored the tying goal in regulation for the Patriots in the 74th minute with an assist from Cammey Keyser.
The Patriots got the edge in the 90th minute (10th of overtime) when Megan Colby connected with just 45 seconds left in the frame.
Kayla Napper then scored the equalizer in the 92nd minute, unassisted, to level the game.
Cougars and Hornets tie
All four goals were scored in the second half of the Sept. 27 game between the Plattsburgh High Lady Hornets and the Northeastern Clinton Lady Cougars, with both teams scoring equally in a 2-2 draw.
The Cougars had to play comeback as Madison Trombley scored in the 50th minute and Brooke Knight scored in the 63rd minute, both unassisted, to give the Hornets a 2-0 lead.
NCCS was quick to respond, as Molly Roush scored in the 64th minute off a Michaela McDonough assist. The equalizer came in the 78th minute when Roush found Erica Sorrell who netted the tying goal.
Chazy shuts out Sentinels
Caitlyn LaPier scored the lone goal in the 34th minute as the Chazy Lady Eagles scored a 1-0 win against the Ticonderoga Lady Sentinels Sept. 27.
Christina Emery assisted on the lone goal of the game, while Katharine Tooke made a pair of saves in the shutout.
Lions beat Knights in overtime
Kylee Cassavaugh scored two minutes into the second overtime as the Elizabethtown-Lewis Lady Lions earned a 4-3 victory against the Seton Catholic Lady Knights Sept. 27.
Clare Harwood assisted on the golden goal, while Cassavaugh assisted on two of the three goals scored in regulation by Jenn McGinn.
Vote on this Story by clicking on the Icon