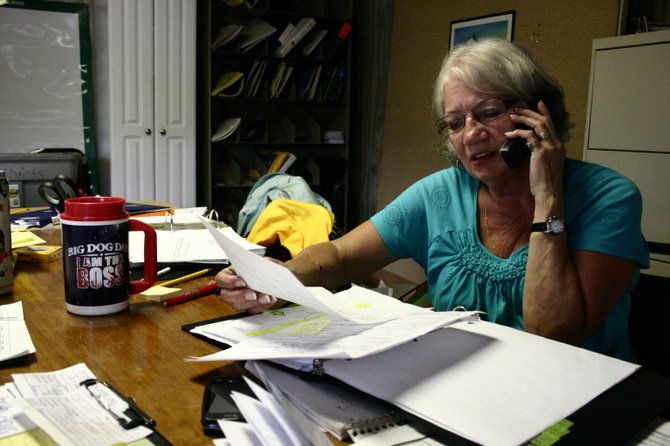 continued — "He's not very organized," she quipped.
These sponsored spaces are joined by hundreds of others on properties rented out by local businesses and residents, as well as personal yard sales.
Among the relatively new vendors signing up for Chamber spots this year was a man who sells door mats fashioned from recycled tires, an artisan who sells silver jewelry embedded with seashells, and an outfit with Tiffany-style lamps, Smith said as she was assembling instruction handbooks for the dozens of volunteers who help conduct the great sale.
This year's vendors include no less than 12 sausage-and-pepper vendors, and Smith said she tries to spread them through town to minimize problems and boost their sales.
The new vendors have been replacing the veterans who increasingly are suffering health problems and selling their enterprises, she said.
One that's dodged any such problems was a vendor who's returning this year, but was turned down as an applicant for on-stage performance during the sale. A series of entertainers will be performing live from 11 a.m. to 4:30 p.m. both days of the sale at the downtown bandstand.
"She yodeled at her booth last year, backed up by a karaoke machine," Smith said, rolling her eyes. "It was unbelievable."
Vote on this Story by clicking on the Icon