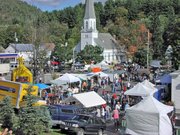 Warrensburg — The nationally-renowned World's Largest Garage Sale may have colossal proportions, but at the helm of the 2001 event Thursday were a mere two people making last-minute arrangements for the event set for Sept. 30 through Oct. 2.
Warrensburg Chamber of Commerce President Lynn Smith and the Chamber's administrative assistant, Kelsey McGlinch, were busy Sept. 22 setting up logistics for the event that annually swamps the small town of Warrensburg with 70,000 people or more over the first weekend in October.
Whether it was reserving 52 porta-johns, answering calls from the public, or settling qualms of vendors, they were taking it all in stride.
Immersed in her work, Smith dialed a phone call to Dennis Martinez. He's assisted her for many years in her 10 organizing the big event.
"Should I line up those big buses or the smaller ones for Saturday?" she asked Martinez about reserving school buses to haul people through town at the Sale. "Okay, two big ones on Saturday and two little ones for Sunday, one handicap equipped, right?"
Decision made.
The phone rang, and McGlinch answered it. Smith looked up from her lengthy to-do list.
"We've been getting lots of calls from people who ask if the Garage Sale is cancelled because of Hurricane Irene," she said shaking her head. "Do you believe it? We had no storm destruction! They must have seen news reports of those motels in Lake George that were flooded out."
The flood — plus perhaps the stalled economy — has reduced the number of vendors signing up in advance for the World's Largest Garage Sale, Smith said. One boat dealer who's routinely participated had his entire inventory sunk by Irene, so he cancelled, she said. Several other veteran vendors, she added, are busy rebuilding their homes and businesses after the storm.
(Continued on Next Page)
Prev Next
Vote on this Story by clicking on the Icon