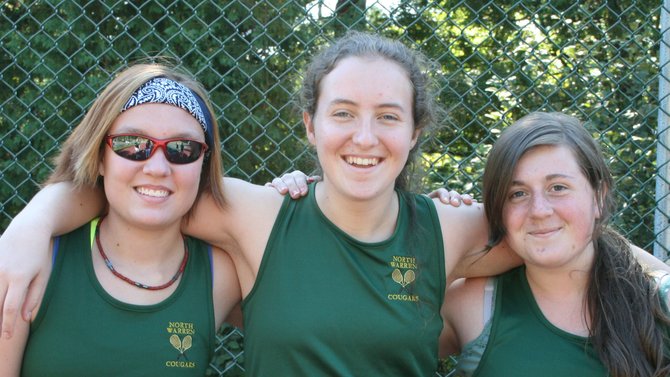 continued — The team's first two years was a learning experience, but the girls' determination, and their experience in the local summer youth tennis program, made a considerable difference.
By their third season, their wins outnumbered their losses despite being pitted against far larger schools.
The girls' varsity team plays non-league games against South Glens Falls, Hudson Falls, Glens Falls, and Greenwich in order to qualify for both team and individual Sectional play.
As of Monday Sept. 26, the team had tallied a 2011 record of 2-3. Highlights of the season include beating Hudson Falls 5-1 on Sept. 22 behind strong performances by Jennifer Paris, Gabby Kenney, Abby Bradley and Selena Primeau in singles matches, and skilled play by Ashley Maresca and Sierra Liebelt in a doubles win.
Also, there was the 4-3 victory Sept. 16 against Glens Falls, when the doubles teams of Charissa Cronk and Brittany Schultz followed by Ashley Maresca and Sierra Liebelt sealed the win, along with singles players Jennifer Paris and Selena Primeau scoring wins.
A big element in the team's success has been Carstensen's approach, according to citizens and sports fans who praise his supportive, encouraging attitude that prompts the players to play with skill and passion — and enjoy every moment.
It has been predicted that tennis at North Warren has a bright future, as Carstensen is still recruiting players of all ages and skill levels, getting them to join both the Varsity team and the Modified squad, which plays in the Adirondack League in a co-ed format.
Vote on this Story by clicking on the Icon