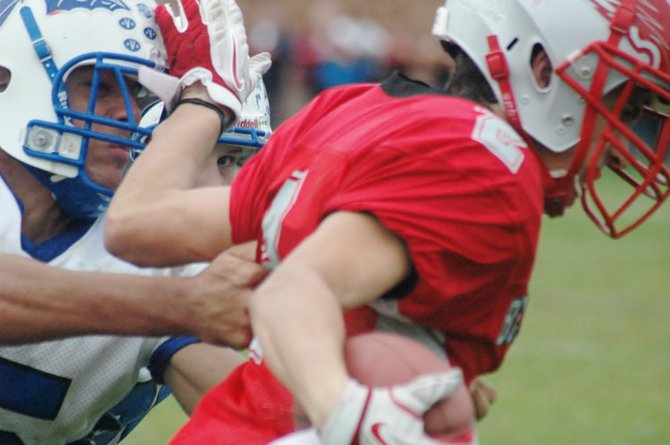 continued — Hendrix ran the ball 10 times for 95 yards and the one score, while Cederstrom carried 18 times for 83 yards and a score, Jeff Kurz carried 10 times for 51 yards, and Rock carried 11 times for 31 yards.
"I really am not a runner," Rock joked after the game. "That's my first positive rushing game I can remember."
Defensively, Bazzano contributed with the forced fumble, Cederstrom had a fumble recovery and a sack, and Kurz added a fumble recovery.
For the Eagles Frechette used the strong finish to go 12-of-21 passing for 114 yards and one score, but was held to 28 yards rushing on 13 carries. No other Beekmantown back reached double-digits in rushing, while Weaver caught five balls for 42 yards and the score.
Sebastian Bailey had the lone turnover for the Eagles with a fumble recovery.
Chiefs defeat Gouverneur
The Saranac Chiefs scored 32 points in the second quarter as they defeated Gouverneur, 46-26, Sept. 24.
After Gouverneur scored late in the opening quarter for a 7-0 lead, the Chiefs offense started rolling when Ben Weightman scored on a run from 13-yards out and converted the two-point conversion with just over one minute gone in the quarter.
Weightman then connected with Austin Velie on a 13-yard pass and again ran for the conversion, followed by a 1-yard run for Weightman with 37 seconds left in the half.
Then, with 19 seconds left in the half, Weightman hit Ryan St. Clair for a 10-yard scoring pass to give the Chiefs a 32-7 lead heading into halftime.
Weightman scored on another one-yard run in the third quarter, and then connected with St. Clair a second time for a 38-yard score. Weightman finished the game with 76yards and three scores on the ground, while going 10-of-14 for 158 yards and three scores passing.
Vote on this Story by clicking on the Icon