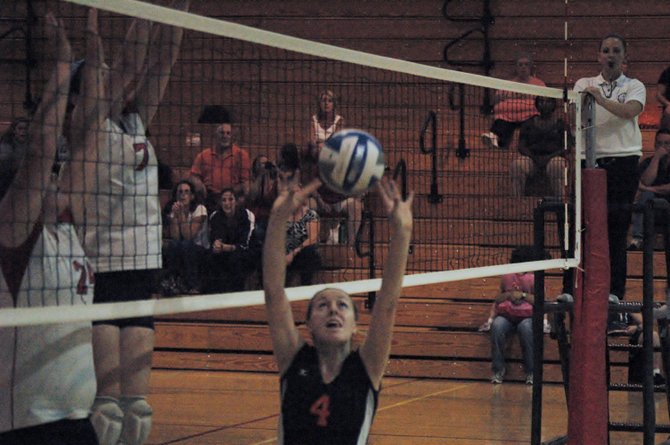 continued — For the Patriots, Hoey had four aces and 12 digs, while O'Toole combined eight digs with three kills, four aces and 11 assists, Cassidy Tallman had three digs and four kills, Miranda Sheffer had four digs, Noelle Miller had 10 kills and four digs and Mirissa O'Neill had six digs, four assists and three kills.
Beekmantown stays undefeated
The Beekmantown Eagles remained perfect not only in matches but in games as they scored a 25-2, 25-18, 25-3 straight games win against the Saranac Chiefs Sept. 23.
Molly Sorrell combined six aces with four kills and three digs, while Emily Anderson also had six aces and Jordynne Ales had four. Setter Kiana Archer had 23 assists in the win.
Stephanie Linder had four kills and three digs for the Chiefs.
Indians blank Cougars
The Peru Indians scored a straight game 25-12, 25-18, 25-21 win over the Northeastern Clinton Cougars Sept. 23.
Abby Higgins nine digs, eight kills and five aces as part of a balanced attack for the Indians, who got eight kills, five aces and four digs from Paige Moore along with four digs and two aces Katie Lawliss, while Lea Perry had 12 assists.
Vada Loya and Stephanie LaValley anchored the Cougars defense, with 12 and eight digs, respectively.
Blue Bombers defeat Red Storm
The Lake Placid Blue Bombers won the final two games to score a 3-games-to-1 against the Saranac Lake Red Storm Sept. 23.
The Bombers won the first game, 25-20, and the final two by scores of 25-20 and 25-23. The Red Storm earned a 25-18 win in the second game.
Lake Placid 3 Saranac Lake 1
Dani Balestrini had five kills and two aces for the Blue Bombers, while Nikkie Trudeau had three kills and two digs for the Red Storm.
Boys soccer
Hornets defeat Knights
Vote on this Story by clicking on the Icon