Photo Gallery
Plattsburgh High at AuSable Valley volleyball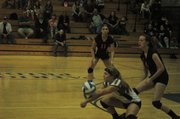 Pictures from the Sept. 23 CVAC volleyball game between the Plattsburgh High Hornets and the AuSable Valley Patriots
Clintonville — The AuSable Valley Patriots were able to get the advantage early in the first two games of their Sept. 23 volleyball match against the Plattsburgh High Hornets, but the Hornets chipped away each time to score a 25-20, 25-22, 25-20 straight games win.
"Our serve receive game has been our nemesis," Plattsburgh head coach Victoria McMillan said. "We are getting better at it, but Jacquie Hoey is a great server and she did what she is asked to do. We were able to do some things to get back into it."
"I think that our inexperience and the need to work on mental toughness to close games hurt us," AuSable head coach Sandra Hoey said. "We are getting close, and we are improving match to match."
Hoey said that while the Patriots were able to get some points off their serve, it could have been a better night from behind the baseline.
"Our serving was not what it normally is," Hoey said. "Jacquie is consistent and runs the defense, while Belle O'Toole runs the offense. They are the team leaders."
McMillan said that one of the keys in the game and for the season was the play of setter Kianna Dragoon, who finished the game with 15 assists.
"She is a very young setter who is doing an awesome job," McMillan said. "She started playing when they moved the season to the fall since she is a basketball player, and she travels the court like a basketball player."
While the first two games were close to the end, the Hornets pulled away in the third game with five straight points at 14-13 in the decisive game to take a 19-14 lead en route to the game and match win.
Katie Cantwell and Kadijah Brown each recorded seven kills in the win, while Taylor Witkiewicz had four kills and eight digs, Samantha Malcolm had four digs, Rachel Rebideau had three aces, Katie Dwyer had six digs and Kayla Boise had four digs.
(Continued on Next Page)
Prev Next
Vote on this Story by clicking on the Icon