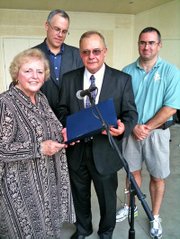 Glens Falls — For 39 years, Walter Grishkot presided over the Adirondack Balloon Festival — which he founded, annually organized and tirelessly promoted.
At Thursday evening's opening ceremony of the 39th annual edition of the event, local officials and balloonists fondly recalled Grishkot's character and achievements.
Addressing a crowd of well over 1,000 in Crandall Park, Glens Falls Mayor Jack Diamond remembered Grishkot's dedicated work which made the balloon festival the region's leading annual event.
"Walter Grishkot was the inspiration, the heart, the soul, and the driving force behind the Adirondack Balloon Festival — from its humble beginnings to the internationally acclaimed event that it is today," he said. "With his wife Joan, he gave his time and talents, his blood, sweat and tears to the festival and to the people of this area for nearly four decades."
Queensbury Supervisor Dan Stec seconded the point, recalling how when he was a child, he was entranced with the balloon festival Walt founded, and all its activities.
"What a wonderful event Walt created," he said. "What the balloon fest does best is bring family members together and make memories they'll have forever."
After proclamations were read in Grishkot's honor, Joan Grishkot shed tears for a moment.
"This is bittersweet — as of last week, we were married 46 years," she said, looking at the hot-air balloons beginning to inflate despite misting precipitation.
"Anyway, he's here in spirit — he's probably up there right now doing a 'No Rain' dance," she said. "This festival shows what one person can do if they have a good idea, a passion for their concept, boundless energy and community support."
Balloon Festival president Mark Donahue said he and others were working for the festival in that spirit.
"His legacy will continue," Donahue said, noting that at 7 a.m.Sunday Sept. 25, a mass ascension of balloons will occur in Grishkot's honor.
(Continued on Next Page)
Prev Next
Vote on this Story by clicking on the Icon