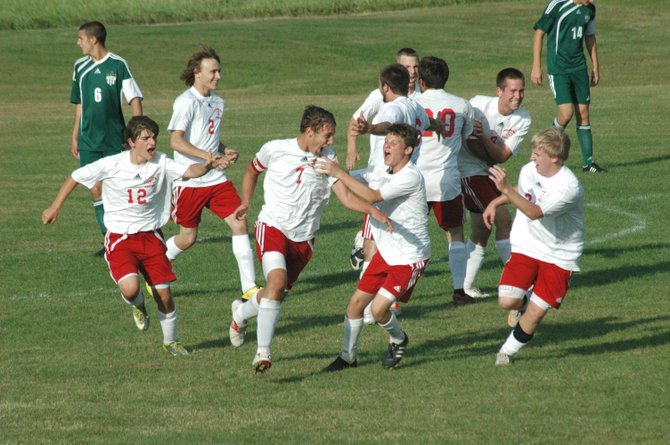 continued — "We put ourselves in good scoring opportunities and took advantage of those in the first half," Willsboro head coach Andy Lee said. "Clay Sherman did some nice individual stuff, and we have been talking about how set pieces are the key to pulling out victories against other good teams."
Lee said that he was pleased with the work of his two central defenders, John Fine-Lease and Sayward, especially in the second half when Chazy put the pressure on offensively.
"They blitzed us very hard," Lee said. "We definitely had to hang in there. I am excited for the kids. The deserved it and it showed them that they can beat this team."
"This is the first time in 12 games that we have done this," Sherman said. "It's a pretty nice feeling right now."
The win gave Willsboro a one-point lead in Division II, with both teams meeting again, in Chazy on Thursday, Oct. 13.
"We need to understand how we are going to respond to this," McAuliffe said. "We know that we have a team that can win games here."
"We have Northern Adirondack, Elizabethtown-Lewis and Chazy three straight games, so everything could change in that one week of play the next time we meet them," Lee said. "We have to better defend against their set pieces."
Cody Sayward made 11 saves for the Warriors, while Santor made five.
Hornets rally past Beekmantown
Ethan Votraw waited as long as he could to score the equalizer for the Plattsburgh Hornets, netting the goal that tied the score at 1-1 in the 80th minute of regulation before scoring the game-winner in the 99th minute (double overtime) to beat the Beekmantown Eagles Sept. 21.
Votraw scored his opening goal on an assist from goalkeeper Chris Roenbeck (three saves) and the second on a David Carpenter assist.
Vote on this Story by clicking on the Icon