Photo Gallery
Chazy at Willsboro boys soccer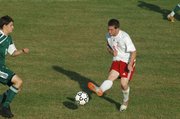 Pictures from the Sept. 21 game between the Chazy Eagles and Willsboro Warriors boys soccer teams.
Willsboro — At the onset, it looked like your typical game between two of the best Class D soccer teams in Section VII as the Chazy Eagles and Willsboro Warriors took to the pitch Sept. 21.
That all changed in the 17th minute, as Willsboro's Clay Sherman scored the first of three first half goals for the Warriors, leading to a 3-1 victory.
"I anticipated the defender going back to intercept the ball, so I wanted to be aggressive," Sherman said of the 50-50 ball he was able to track down. "I was able to beat one defender and then beat the goalie to the left."
Sherman was assisted on the goal by Sam Politi, who cleared the ball out of the Willsboro defensive area.
"That gave us a ton of momentum," Sherman said. "We played for the next 20 minutes on adrenaline."
"Sherman was doing his job for us, and the goal was a big morale booster," sweeper Dakota Sayward said. "It gave us the confidence to keep pushing up."
Clayton Cross scored the second goal for the Warriors on a scramble in front of the Chazy net in the 22nd minute, and Nick Arnold scored the third goal in the 32nd minute when a corner kick by Jeffrey Bigelow deflected off the hands of Chazy goalie Austin Santor and onto Arnold's foot.
The Eagles appeared to score their first goal just before the end of the first half, but the play was ruled offsides, one of three scoring chances for Chazy that was called back.
The Eagles finally scored in the 75th minute, when a cross by Jordan Barriere found the head of Nathan Reynolds for the lone Chazy tally.
"We got beat by a better team today," Chazy head coach Rob McAuliffe said. "If you don't play well against a good team, then they are going to beat you."
(Continued on Next Page)
Prev Next
Vote on this Story by clicking on the Icon