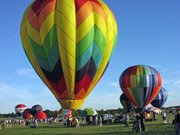 Queensbury — The Adirondack Balloon Festival — considered the nation's premier family-oriented event of its kind — is set for this weekend, and it features a tribute to the event's founder, Walter Grishkot.
Grishkot, who died earlier this year, tirelessly organized, managed and promoted the event for its 38-year history.
At no other balloon festival can spectators see dozens of colorful hot-air balloons take flight and get close enough to help a pilot and crew launch their craft.
This year's event, set for Thursday, Sept. 22 through Sunday, Sept. 25, includes six fancifully shaped craft among the 100-plus balloons from across the U.S. and Canada scheduled to participate.
With all activities free of charge, the festival kicks off at 4:30 p.m. Thursday in Crandall Park in Glens Falls with a performance by country rock group Stony Creek Band, followed by an opening ceremony honoring Grishkot at 5 p.m., and then a liftoff of 15 or more balloons thereafter.
From 6 to 9 p.m., Glens Falls will be hosting a downtown balloon fest block party, which includes a car show with dozens of classic vehicles, various family activities and entertainment, topped off with fireworks.
On Friday, the festival moves to the Floyd Bennett Memorial Airport in Queensbury, where gates open at 3 p.m. for craft fair, vendors, and family activities. A launch of 70 or more balloons is to be held at 5 p.m.
On Saturday and Sunday at the airport, activities and breakfast begin at 5 a.m. Eighty to 90 balloons lift off at about 6:30 a.m. and 5 p.m. both days Vendors open up early and continue all day.
All flights are weather permitting.
The specially shaped balloons include "Airhead Invader" from Warren County, N.J. looking like a menacing space alien, and the fanciful "Purple People Eater" piloted by John Cavin of Menlo, Ga.
(Continued on Next Page)
Prev Next
Vote on this Story by clicking on the Icon