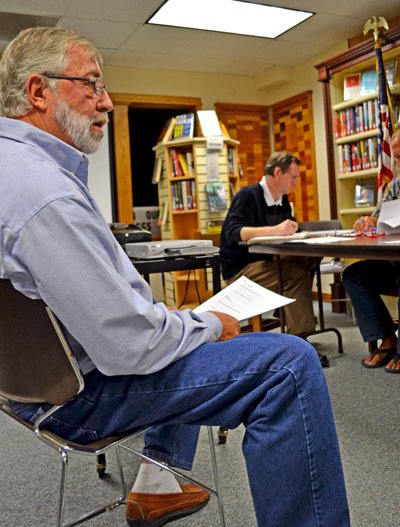 North Creek — Don Filkins uncovered blemishes great and small in many of Johnsburg's town buildings, and hosted a slideshow at the Sept. 20 town meeting to magnify the pockmarked paint and sagging siding.
Town board member Gene Arsenault said, "It's disappointing and embarrassing to see our town buildings in this condition."
A retired contractor with 40 years of experience, Filkins said talks with Town Supervisor Sterling Goodspeed encouraged him to do a thorough check of the buildings the town owns, and bring a report to the board.
Unhappy with the condition of the buildings, Filkins said, "If you're going to complain, you've got to step up to the plate."
Most of the maintenance that needs doing on these buildings is the sort of thing most people do around the house, said Filkins, like fresh paint for structures exposed to the elements or a disinfectant scrubbing for mold- and moss-covered walls.
The Tannery Pond Community Center has a section overgrown with ivy. Once the ivy gets onto a structure, said Filkins, it can work its way into crevices and allow moisture deep into a building's outer wall.
Most of the fixes are simple, said Filkins, but the town's garage needs floor drains and the senior meal site's roof is rusting and in need of repair.
Busted baseboard heaters, cracked windows, loose handrails and the like make up the majority of needed fixes.
The board passed a motion for Goodspeed to start talking about repairs and maintenance with Filkins and begin prioritizing projects.
The town needs to figure out exactly how much is in the contingency budget before they commit to anything, but Goodspeed said there are many immediate, cost-effective fixes that are low or no cost and can be taken care of soon.
In other business, Goodspeed said he's been struggling with the town budget.
(Continued on Next Page)
Prev Next
Vote on this Story by clicking on the Icon