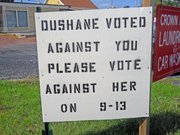 Decision's aftermath 'horrifying'
The Crown Point town board's decision to eliminate the elected assessors has divided the community. Some support the assessors, others support the decision and still others believe the issue should have gone to a public referendum.
Signs have gone up criticizing the "gang of three" — Kosmider, DuShane and Patnode — who voted for the change. Town board meetings have become raucous. Letters to the editor have been published. Discussions — sometimes fights — have taken place on streets.
"It's been horrendous what's happened since that vote," Kosmider said. "Friends and neighbors are arguing. People have been intimidated and threatened. It's terrible."
Kosmider noted she and Mackay are next door neighbors and longtime friends. That relationship has been strained, she said.
Kosmider said she has been forced to call the state police on three occasions. Gunshots were fired near her home the night of the assessor vote; she was forced off the road by a friend of an assessor, whom she refused to identify; and after she became "concerned" with comments directed at her by Mackay. No arrests have been made.
"I feel this wouldn't be happening to me if I was a man," Kosmider said. "They think I'm vulnerable, but I'm not going to sit idly and be threatened.
"The tactics they're using aren't fair," she said. "This has gone way beyond politics."
Ross said he supports people speaking their minds, but not threats.
"People are upset," he said. "I'm upset. I don't think it's right (the move to a sole assessor)."
Kosmider said misinformation and outright lies are fueling the controversy.
"Why go out and tell people things that aren't true?" she asked. "People have been told they'll lose their STAR, ag (agriculture) exemption, veterans exemption, senior exemption. That's not true. The state put these things into place and only the state can change them.
"Misinformation and exaggeration are no substitute for facts," she said. "Fear has no place in a democracy."
Kosmider declined to say who is spreading the misinformation.
The issue is now political. Signs across town are calling for the "gang of three" to be voted out of office. DuShane, a three-term incumbent, was defeated in the Crown Point Republican primary Sept. 13. Kosmider a Democrat will face Republican Charles Harrington in the November general election. Patnode is not up for re-election this year.
Ross said he will work to defeat those who voted to eliminate the elected assessors.
"I'm going to support candidates I believe will do the best job for the town," Ross said. "I want what's best for the town."
Kosmider hopes to be re-elected in November. She remains convinced the move to a sole assessor is right for the community.
"The calls, letters, people we meet on the street — they make me realize we did the right thing," Kosmider said. "We're trying to do what's best for Crown Point.
"We have an election coming up," she said. "After that election, win or lose, the town will move on. I give the people of Crown Point a lot of credit. They fight for what they believe in, but in the end they always come together and move forward for the good of the town."
(Continued on Next Page)
Prev Next
Vote on this Story by clicking on the Icon