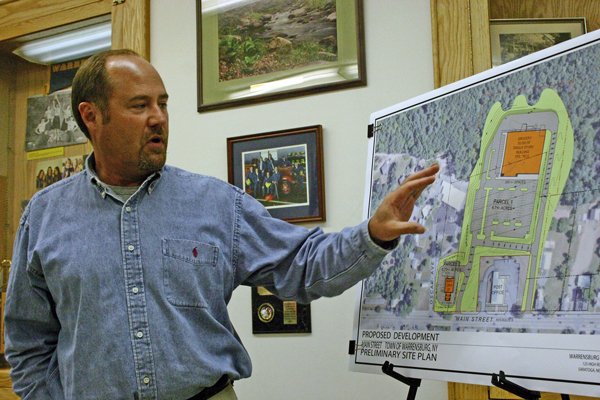 continued — "We're looking forward to bringing a major supermarket to an underserved area," Feinman said.
Feinman's plans call for a 40,000-square-foot supermarket, plus a bank and several other retail stores adjacent.
Both developers said this week, however, that the Warrensburg area can only profitably support one local major supermarket.
Feinman said his site is the better of the two because it is closer to the Northway exit. Dalpos said Monday his site offers tax income to Warrensburg, it will boost traffic to other hamlet businesses, and it's within convenient walking distance to many local shops.
"The attractiveness of this site is that it's in the town of Warrensburg," he said. "It means adding to local tax revenue and it will be a large draw, pulling people through town so local enterprises can capture their business."
Warrensburg town officials said, however, that whichever development plan gets in place first would likely win out.
"A supermarket is coming to Warrensburg," town Supervisor Kevin Geraghty said. "And now the race is on."
Town officials said the site in the hamlet didn't necessitate approval from Adirondack Park Agency and other state panels, and sewer and water infrastructure was already in place. The Prosser Road site would necessitate negotiating sewer and water service with Warrensburg, and perhaps the Lake George Town Board setting up a sewer district — time-consuming processes.
Dalpos said his group "controls" parcels of land northwest and southeast of the main plot behind the post office, perhaps for future development for stores.
He said he has an option to purchase the Kreinheder's Antiques property, as well as a home on Hackensack Avenue directly at the junction of Hackensack and King Street.
Dalpos said theoretically plans might call for developing a side entrance to the supermarket complex through that parcel, allowing residents of the King's Addition neighborhood easy access.
Vote on this Story by clicking on the Icon